"I didn't like Gareth Bale's whistles recently, he's a historic player for Real Madrid; When you boo a player like that, you boo the history of this club" – Casemiro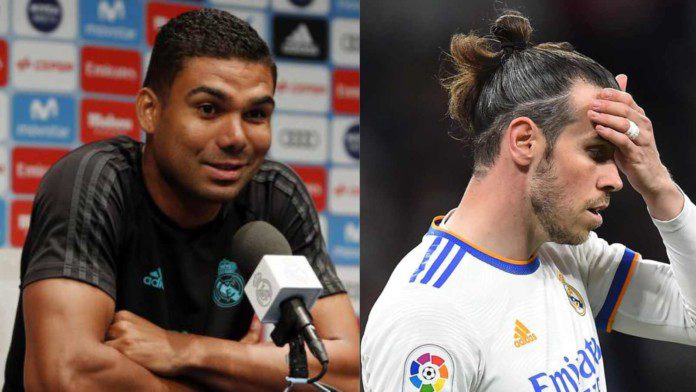 Supporting his team-mate Gareth Bale, Casemiro said the Welsh striker is a "part of Real Madrid history" and should be respected after he was at the bottom of the crowd's whistle after coming on for Real Madrid in the 74th minute against Getafe on Saturday .
"When you boo one player, boo all of us. Football is about opinions, everyone has theirs, but I don't approve of a player on my team being booed. We are all on the same page, we have to support him' Casemiro said.
Casemiro also pointed out that whistling by a player itself worsens a team's performance and lowers morale. Fans should not do this and instead support all players as they all share a common goal as a team.
"I didn't like the whistles for Bale the other day, He is a historic player for this club. He has scored many important goals for this club. When you whistle at a player like that, you whistle at the history of this club. I do not want it. I think the fans have to support us' the Brazilian added.
Bale's conflict with the fans largely came after his falling out with Real Madrid, putting Golf ahead of his responsibilities at Real Madrid and his perceived bias towards the Whales national team. He has been sour in Spanish media in the recent past that Marca and Mundo Deportivo have heavily criticized the Welsh international for his underperformance and lack of priorities.
Gareth Bale's future at Real Madrid
Bale's time at Real Madrid will end with a contract expiration this summer and his future remains rather uncertain as a will to continue has not been evident in his tenure at Los Blancos. During that time he won 4 Champions League trophies, 3 Super Cups, 3 FIFA Club World Cups, 2 La Liga titles and more.
Casemiro is responding to Thomas Tuchel's claims after the Chelsea manager admitted it was over for the Blues ahead of the second leg against Real Madrid
Chelsea manager Thomas Tuchel was adamant it was over for Chelsea after the 3-1 defeat by Real Madrid at Stamford Bridge. Interestingly, Casemiro added in the same press conference that neither he nor his team took heed of the statements as it's not over until it's over.
"We can't trust anything, no matter what Tuchel said, they are the current champions. We need the fans. The key to everything is the badge, which wins when no one believes it. As they say: 'Till the end, let's go Real'" Casemiro said.
"We don't trust ourselves, even though we played the best 90 minutes of the season there. It's going to be difficult, we need our people," he concluded Midfield player.
As for Gareth Bale, you won't see him in the starting XI but he can be back on the bench and might get a chance late in the game.
Also Read: 2021-22 UEFA Champions League Quarter-Finals Leg 2: Real Madrid vs Chelsea preview, team news, possible line-ups and predictions
https://firstsportz.com/football-news-i-didnt-like-the-whistles-the-other-day-for-gareth-bale-hes-a-historic-player-for-real-madrid-when-you-whistle-a-player-like-that-youre-whistling-the-history-of-this-club-casemi/ "I didn't like Gareth Bale's whistles recently, he's a historic player for Real Madrid; When you boo a player like that, you boo the history of this club" – Casemiro