"I didn't come here alone" – Tiger Woods delivers emotional speech at induction into World Golf Hall of Fame » FirstSportz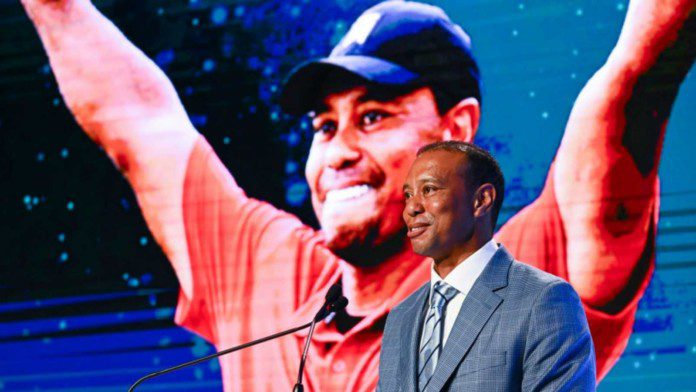 The 15-time majors champion and arguably the greatest golfer of all time, Tiger Woods was inducted into the World Golf Hall of Fame on Wednesday. However, he couldn't hold back his years and choked after a moving speech from his 14-year-old daughter Sam.
In his emotional speech, Woods, 46, recalled fighting racism as a youngster and the support of his parents, coaches and friends. But the American golfer hasn't addressed any of his 82 wins on the PGA Tour, or his 15 majors, or the eight surgeries he's endured along the way.
"I didn't come here alone' said Woods. "I had incredible parents, mentors and friends who supported me through the darkest of times and celebrated the highest of times.
"Actually, it's a team award. You all have allowed me to come here and I just want to thank you from the bottom of my heart."
Sam shares an amazing story about the day she was born
Sam Woods, dressed appropriately in red, was as composed in her speech and presentation as her father was on the golf course. In her speech, the teenager shared an amazing story about the day she was born, the day that happened to be the 2007 US Open finals in Oakmont.
"In 2007, my dad put himself in a position to make an 18-foot putt to force a US Open playoff that he missed by a foot' she recalled. "He then had to rush to the airport, flew from Pittsburgh to Orlando, and drove to Winnie Palmer Hospital. Within five minutes of entering the hospital room, still in his red golf shirt, I was born on June 18th.
"He may have lost that day, but he won the greatest gift of all."
"Damn' said Woods, teary-eyed, trying to lighten the moment. "I just lost a bet [Steve] Stricker that I wouldn't cry. Thanks Sam."
also read | 'Whoops' – Tiger Woods trolls Phil Mickelson after winning the PGA Tour's PIP initiative
https://firstsportz.com/golf-didnt-get-here-alone-tiger-woods-delivers-emotional-speech-at-world-golf-hall-of-fame-induction/ "I didn't come here alone" – Tiger Woods delivers emotional speech at induction into World Golf Hall of Fame » FirstSportz