"I certainly have higher expectations of myself," says Jimmie Johnson, who is extremely positive about a completely different comeback at Texas Motor Speedway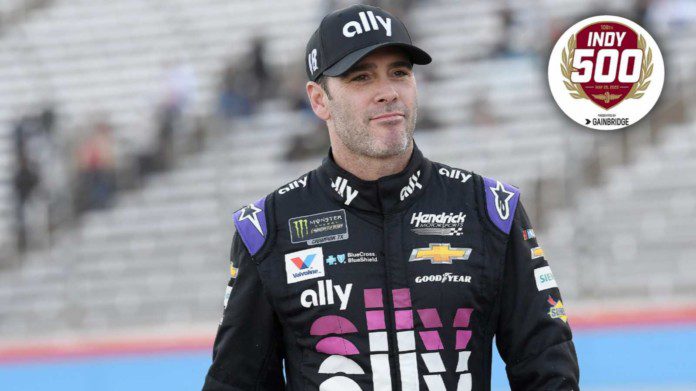 Jimmie Johnson The 7-time NASCAR Cup Series Champion makes a comeback in the Texas Motor Speedway titled as "Jimmie Johnson Winners Circle" has announced a comeback on the track where all the myths and legends about him were born. The Californian holds an unbeaten record of 7 victories, the most laps leading in the history of the track, which was so dominant that track authorities renamed a victory lane after him.
One of NASCAR's GOATs will return to the Texas Oval, but not in a stoke car this time as he will be driving one Chip Ganassi Racing No. 48 Honda on its Indy 500 debut. A staggering 82 victories in ovals has not been enough to make him attempt Indianapolis 500 in the past as safety concerns from his family forced him to stay out.
But now the former NBC analyst is racing along MSA WeatherTech SportsCar Championshipwho drives the #48 Cadillac for Ally Cadillac Racing has decided to end his unofficial Indy 500 ban and will be making his Indy Car debut at one of the most iconic open wheel racing events and tracks.
Everyone is talking about Jimmie Johnson's return to Texas Motor Speedway
Jimmie Johnson has been in command of Texas Motor Speedway for a decade and is now set to make a comeback. To this he added that the regulars are so good at what they do and when someone debuts in a new series it will take time to settle in. He also added that he certainly has higher expectations of himself but will not qualify or win the race.
"Whenever you join a new series you're with the regulars, they're so good at what they do. We've seen it when drivers try to switch from different series. I certainly have higher expectations of myself but I don't think I'll show up, qualify for pole, lead the most laps and win the race." said Jimmie Johnson.
Jimmie Johnson says he still has a lot to learn after the changes to the track
Jimmie Johnson said he's watched every race to understand it and will also have a few hours of practice so he can go out on the best possible race machine. The former NASCAR Champion added that he thinks the Indy 500 is very special and wants to make it most beneficial for him by using all the time available to practice.
"I watched every video I could possibly get. I need to use the two hours of practice to maximize that, to get a feel for it so I can go into the event with the best race car possible. said Jimmie Johnson.
"Ultimately I want to drive every lap of the race, I'm so new to my IndyCar experience, starting on ovals everywhere, every lap will be a remarkable treasure trove of experience. We're trying to prepare for the Indy 500. Everyone knows how special the Indy 500 is. It's the second oval on the schedule. Every round I do will be very beneficial," added Jimmie Johnson.
The question remains will Jimmie Johnson make his IndyCar debut memorable and emerge victorious at Texas Motor Speedway!
Also Read: Denny Hamlin Finds NASCAR's Inarticulation Extremely Infuriating as Organization Shrinks to Address Issues
https://firstsportz.com/nascar-i-certainly-have-higher-expectations-for-myself-jimmie-johnson-is-extremely-positive-about-an-entirely-different-comeback-to-texas-motor-speedway/ "I certainly have higher expectations of myself," says Jimmie Johnson, who is extremely positive about a completely different comeback at Texas Motor Speedway