Hockey fight ends in a completely unexpected way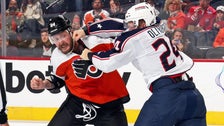 A fight Sunday between two NHL enforcers suddenly ended with a gentlemen's agreement between the two to end the brawl. (Watch the video below.)
Deslauriers then respectfully tapped Olivier's helmet, and Olivier returned the gesture. The two briefly hugged face to face and skated off the ice.
The announcer seemed pleased by the mutually agreed interruption.
It's no surprise that the two would exchange blows. Before the season, The Hockey News ranked Deslauriers was the league's second-best enforcer and Olivier earned an honorable mention.