"His knee is so funny," head coach Francis Ngannou describes his brutal knee injury situation ahead of UFC 270 »FirstSportz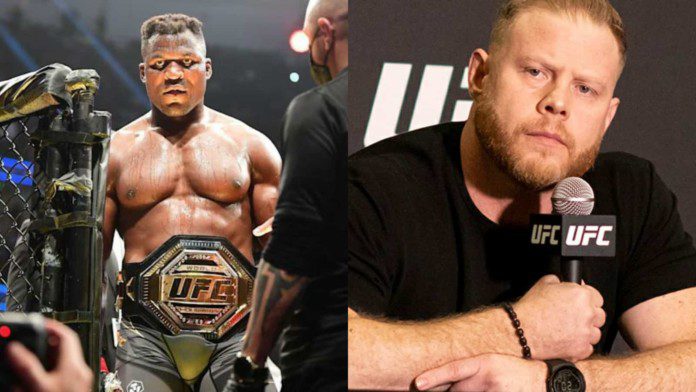 UFC Heavyweight Champion Francis Ngannou not only silence his doubts but also those who think of him as more of a powerful puncher and not a techie ahead UFC 270 in the fight against Ciryl Ganes. To the surprise of the world, Ngannou dominated Gane in the third round and won not with his feet, but with his wrestling. This was the first decisive win for Ngannou, who is hitting a 100% shot rate and wants to rise from the odds that he's the underdog and backs Gane to win.
However, the fight wasn't easy for Ngannou to win, as he did 100% of his strength but didn't appear 100% healthy when he entered the fight. Ngannou tore an ACL in one of his knees. Ngannou later said in his octagonal interview that he couldn't see himself withdrawing and wanted to prove something inside the cage.
Francis Ngannou was examined by the UFC Performance Institute to uncover shocking reports
Head Coach of Ngannou, and head coach of Xtreme Couture training center, Eric Nicksick talked about how Ngannou's injury unfolded while attending UFC 270, and more on The MMA Fighting's The Time MMA with Ariel Helwani.
"That was three and a half weeks ago, I believe, it was during game time," Nicksick said. "Ali [Abdelaziz, Athlete Manager] there's a big heavyweight coming in town, he's a guy who's going to be a contender, we worked with him on monday, on more grappling day, he's a training partner great view and great view of Francis and on Tuesday Francis did in Southpaw. Francis pissed him off a bit, I could tell he was nervous, so he fired a very low single shot."
"Not that he's trying to be mean or anything like that… but it's very low, walking on Francis' right foot, his right foot is a nampaw and with shin and knee pads, head type. his pillow is funny swagger… but… we actually finished the rounds and we went to PI and was reviewed the next day, he had an MRI and it was a total tear of the MCL and he also had damage in the ACL…" Nicksick said.
What do you think of Ngannou's trauma story? Do you think it's fair to fight when Ngannou considers the extent of the injury? Or are you already over it because now Ngannou has won the war? What do you think is next for Ngannou, another title defense, or debut in the pro boxing arena?
Also read: 'I believe he was given bad advice,' Chael Sonnen warns Francis Ngannou expecting Tyson Fury to fight without UFC support
https://firstsportz.com/his-knee-buckled-funny-francis-ngannous-head-coach-describes-the-circumstances-of-his-brutal-knee-injury-prior-to-ufc-270/ "His knee is so funny," head coach Francis Ngannou describes his brutal knee injury situation ahead of UFC 270 »FirstSportz