'He's so happy!' Nick Kyrgios loses his cool; hits board and smashes racket in Indian Wells against Rafael Nadal » FirstSportz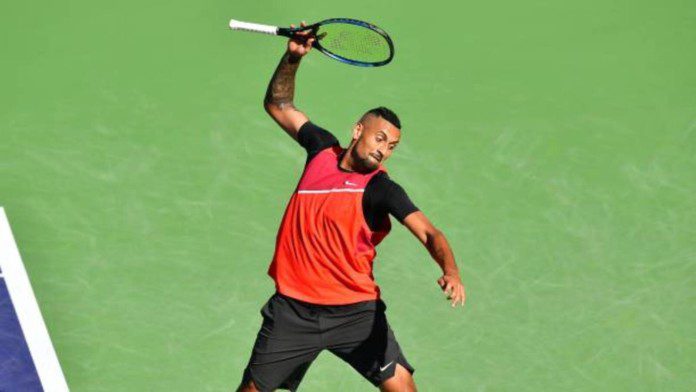 Much was expected from the highly anticipated Rafael Nadal vs Nick Kyrgios clash and the players certainly delivered. Both Rafa and Nick played very quality tennis in the first set, with Nick being the first to laugh. He was able to break Rafa quickly in the opener and solidify his serve well. So much so that some of his service games lasted less than 2 minutes. Leading 5-4, the Aussie served for the set but against the run of play, broken hot.
Clearly upset with himself, Kyrgios was caught off guard by Nadal's sudden attack. He lost his concentration and after losing the next game, he smashed his racquet and even slammed the board in frustration. As a result, he was fined a code violation for racket abuse.
Also in the following game, Kyrgios was very frustrated with the turn of events but managed to hold serve to force a tie-breaker. But Nadal seemed to have entered Kyrgios' mind as he completely lost his composure and screamed between the dots. His focus was gone as Nadal had up to 6 set points on the Australian's serve. The constant yelling led to another violation and thus a deserved point penalty. As a result, Nadal won the tie-breaker 7-0.
'He's so lucky': Nick Kyrgios on Nadal
During the first set, Kyrgios also called Rafa 'happy' several times and smiled at his box with a lopsided smile, saying: "He's so happy." It was kind of ironic as Nadal didn't have any lucky nets, but Kyrgios thought otherwise.
What was even more surprising to everyone was that Kyrgios looked like the better player for most of the set, but a small lack of concentration saw him lose the set.
Kyrgios also complained that the fans were constantly talking and shouting between serves. Referee Carlos Bernardes also conceded the matter, clearing a fan during Nadal's serve at love in the second set.
Also read: "He's probably capable of winning a Grand Slam this year," says top tennis coach Carlos Alcaraz as "the future superstar."
https://firstsportz.com/tennis-he-is-so-lucky-nick-kyrgios-loses-his-cool-punches-board-and-smashes-racket-at-indian-wells-against-rafael-nadal/ 'He's so happy!' Nick Kyrgios loses his cool; hits board and smashes racket in Indian Wells against Rafael Nadal » FirstSportz