Fire Commander is a firefighting game that doesn't suck
Firefighting games have been around as long as video games have existed, but for whatever reason – and I'll speculate on that in a moment – there has never been one Great one. fire commander is the latest game trying to break that duck, and while it doesn't quite make it, I at least admire the way it tries.
fire commander was developed by Pixel Crow—remember hit cop?– and Atomic Wolf and was released last week for PC, Xbox and PlayStation. It works like a real-time tactics game, except instead of shooting Nazis you put out fires, and between missions there's a whole strategic side to the game that can best be summed up as "XCOMbut with gymnasiums for firefighters".
I think the main reason there's never been a great fire engine game is that no matter how exciting the topic may seem on the news or in the movies, the reality is that most fires are fought in incredibly routine ways. And fire itself, while definitely a danger, doesn't lend itself to being a big opponent in a game like a real enemy does. Sure, it's dangerous, but it's also usually slow, and in most cases you defeat it by… pointing a hose at it.
fire commander tries to circumvent this by refraining from any simulation attempts. If you want a glimpse of how fires are actually fought and what a day in the life of a firefighter actually looks like, this isn't the game for you. At almost every point in this game fire commander discards reality in the name of concessions to fun and strategic gameplay, and while this is somewhat disappointing – I used to work for NSW Fire & Rescue and would like to see someone actually create a decent simulation – in most cases it is understandable, and the Game is all the better for it.
Fire Commander – Launch Trailer
Like I said, fire commander is divided into two sections. The first, played between missions, lets you oversee your firehouse and roster of firefighters, and when you've played XCOM You already know what's going on down here. You can rest and train your existing firefighters, recruit new ones, and expand or improve your base. It's fine and everything works, but I've never found it challenge as I think it should be as my firefighters would gain XP so quickly that resting and replacing them never felt as urgent as it clearly should.
G/O Media may receive a commission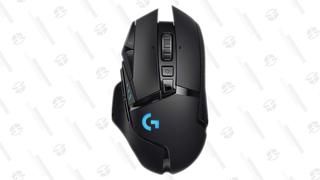 20% sale
Logitech G502 Lightspeed Wireless Gaming Mouse
To play!
Uses exclusive ultra-fast wireless technology to ensure your mouse is faster than you, can be sued for highly customizable performance along with dedicated software, and features 11 buttons to play around with, a hyper-fast scroll wheel and also RGB lighting.
Inside most of the time fire commander however, is spent on a mission, and here it became much more pleasant. The developers have abandoned any attempt at realism and instead created a real-time tactics game based on you choosing the right person for the right job at the right time.
Every job you participate in has some sort of time limit, such as: B. a fire spreading to something explosive, or a number of civilians who are in danger and need to be rescued before it's too late. Standing in your way is the fire itself that must be extinguished, as well as a variety of environmental challenges such as locked doors (which require axes to be hacked open) and obstacles that can only be overcome by a certain class of firefighters.
This classification is frustrating in a number of ways – why can't every firefighter use a circular saw or a computer!?! – but like I said, it's one of the design concessions that was made to make it a game, and once the initial annoyance subsided and I started thinking of everyone as "engineers" or "scoundrels", it was it ok.
Therefore, the key to completing each and every mission is finding the fastest way to reach each objective, because the longer you let a fire spread or leave an office worker in a smoke-filled room, the harder your job becomes. I've rarely landed a job first time; Instead, it would take a few tries as I had to tweak which firefighters I sent to each corner of the map and make sure they were doing the right tasks when they got there.
This was frustrating again at first, as it felt like bullshit to keep restarting missions in a game that superficially shared so much in common with a real-time tactics game. Certainly a game that had so much in common with, shall we say, Division Steel should test me throughout the mission and not just present me with a single puzzle at the beginning and leave the rest to my execution?
However, start treating each mission as a run and it starts to make more sense. Fewer Division Steelmore neon white. Each mission will unfold the same from the start, so a successful job fire commander It's more about perfecting your plan – multiple actions can be queued at any time, even before the mission begins – and then executing that plan perfectly.
When you've mastered something fire commander trying to do here—Using firefighters as window displays for a unique real-time tactical experience rather than simulating the work of a firefighter– It can be really fun. Moving around a map and shooting bad guys has been done 1000's of times, but coordinating a team to contain a spreading fire, clean up spilled chemicals, and pull unconscious civilians from a burning restaurant (sometimes all at once) , was a new challenge.
It's far from perfect, of course, and I don't want to make it sound like this is a contender for strategy game of the year. Even allowing for the lack of realism, there are still some bizarre choices here, such as challenge (forces you to juggle firefighters who have to run back to a truck to get gas), but are a major pain in the ass in execution is.
Most flashy and despite my general love for this "genre" of European catastrophe and transportation management (if you can even call it that) it's riddled with annoying little quirks like simple tasks that require multiple clicks and pathfinding that sends firefighters on bizarre journeys around the map and sometimes… right into fires. It's a pesky field, another one that worries (or prioritizes) its nuts and bolts over its shine, and I knew that came into play, but that doesn't make it any less frustrating.
BUT. I'm a forgiving man when it comes to these kinds of games because as broken as they can be and as unforgivable as that can be in so many other circumstances, When it comes to euro management games, I'm willing to look past a lot because that's what these games are like Serious. This broad genre Has limited budgets and is Play in front of a limited audience so expecting the world of its games is unfair. They're trying their damn best, and in this case fire commander does enough new and interesting things that I could work beyond its rougher edges.
https://kotaku.com/fire-commander-pc-firefighter-video-game-review-1849358289 Fire Commander is a firefighting game that doesn't suck