Ex-Jaguars trainer Urban Meyer says Trevor Lawrence 'could be a Hall of Famer one day'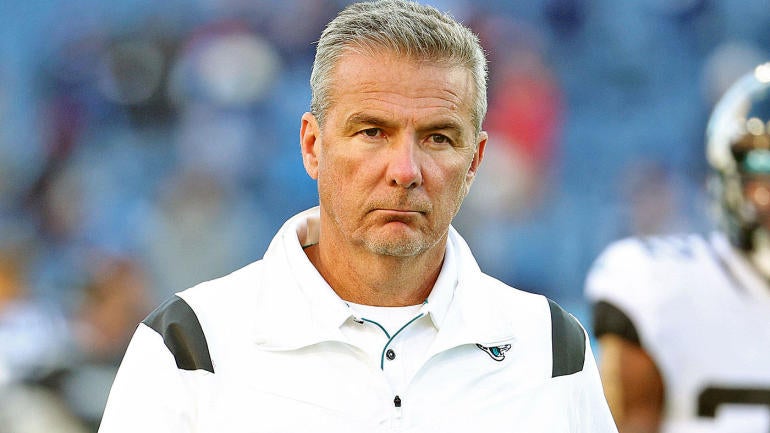 Urban Meyer's short-lived tenure as Jaguars head coach did not go well. But the former Florida and Ohio state national champion still holds Jacksonville in high regard. Joining Patrick Peterson and Bryant McFadden on Tuesday's CBS Sports "All Things Covered," Meyer praised the Jaguars' improved personnel and made even loftier comments about quarterback Trevor Lawrence.
"Trevor Lawrence, (he) could be a Hall of Famer someday," Meyer said. "He's so good."
Lawrence struggled mightily under Meyer, who went 2-11 before his layoff in the season last year. But the former No. 1 overall draft pick emerged in 2022 under new coach Doug Pederson and earned a Pro Bowl nod after rushing for 4,000 yards and notably led the team to a 27-point comeback Beat the Chargers in the playoffs.
"They've done a really good job in free agency this year," Meyer said. "But to me, it's a quarterback sport, and when you get a killer like Trevor Lawrence … you have a chance."
When asked about his own journey to the Jaguars in 2021, Meyer said he always planned to remain retired after a long career as a college coach. But he "was approached by a couple of teams, and that team really appealed to me," mostly for the opportunity to work with Lawrence. He admitted he "would do some things differently" if he could relive his truncated run atop the Jags, but said he had "no desire" to return to the sidelines.
https://www.cbssports.com/nfl/news/former-jaguars-coach-urban-meyer-says-trevor-lawrence-might-be-a-hall-of-famer-someday/ Ex-Jaguars trainer Urban Meyer says Trevor Lawrence 'could be a Hall of Famer one day'