Everything We Know About Christopher Nolan's New Movie
Every few years, Christopher Nolan descends from the Mount Olympus of directors to deliver another must-see movie. His consistency rivals any living or legendary filmmaker. As a writer, director, and producer, he's one of the most successful auteurs working in cinema, and he's making blockbusters that match the scale of Spielberg's or Kubrick's classics. The Dark Knight Trilogy, Inception, Memento: his body of work is a checkerboard of originality and adaptation.
Nolan's twelfth film will be a change of pace for his filmography; the director is writing and producing a biopic concerning the life of J. Robert Oppenheimer. For more about who that is, what the movie might be about, and the cast—so far—check out our breakdown of everything we know about Oppenheimer.
Editor's Note: This piece was updated on June 2, 2023.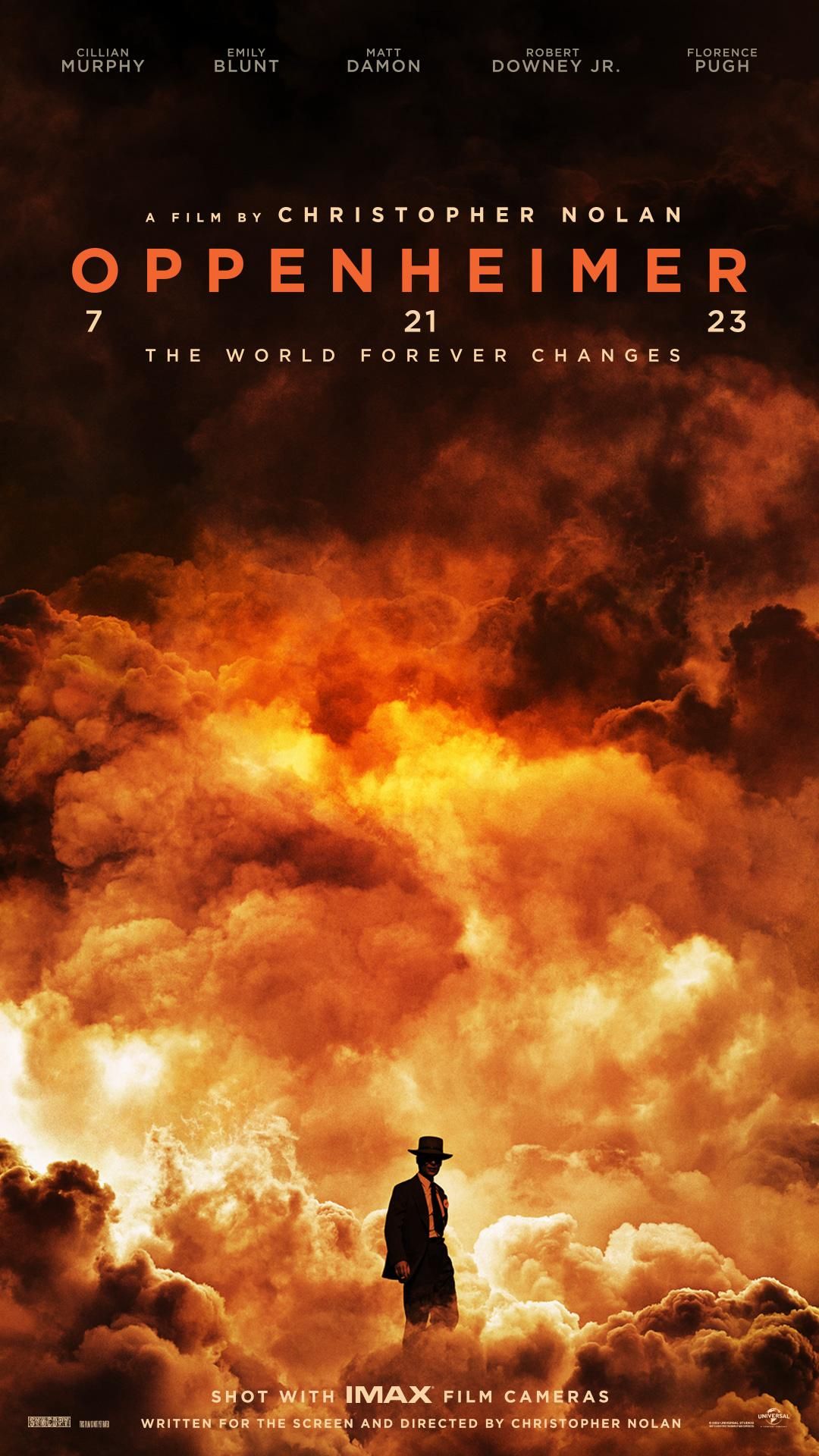 Oppenheimer
Director

Christopher Nolan

Release Date

2023-07-21

Cast

Cillian Murphy, Matt Damon, Robert Downey Jr.

Writers

Kai Bird, Christopher Nolan, Martin J. Sherwin

Main Genre

Biography

Genres

War, Biography, Drama
RELATED: Christopher Nolan Films Ranked from Worst to Best
Does Oppenheimer Have a Release Date?
Swiftly after Universal Studios announced its deal as the new distributor for the director's films, they announced his new movie is set to be released on July 21, 2023. Oppenheimer will be Christopher Nolan's first R-rated film in 20 years. His last R-rating was for his 2002 film, Insomnia.
Will Oppenheimer Be Released in Theaters or Streaming?
Oppenheimer will be exclusively in theaters, and it'll be available in the standard digital cinema projection as well as in IMAX, 70mm, and 35mm formats. The film will open opposite another star-studded blockbuster from an auteur director in Greta Gerwig's Barbie.
Nolan is also one of the most vocal proponents of celluloid film and the silver-screen experience. In March 2020, he wrote an op-ed for the Washington Post about the magic of movies and movie theaters. In the documentary Side By Side, which dissects the differences between celluloid film and digital cameras, his comments reveal him as a film purist. His commitment bleeds into the distribution of his pictures where he ensures a limited authentic film release—ala Quentin Tarantino. Even when almost literally every other film was pulled from release in 2020, Nolan and Warner were insistent on Tenet's summer release. While it didn't save cinema when Warner Bros forced its release amid the coronavirus pandemic in August 2020, it was another heady and action-packed picture by the Englishman. It was his lowest-grossing feature since The Prestige.
After Warner Brothers announced plans to give their films same-day streaming service debuts on HBOMax, Nolan, along with other creators and the movie theater companies themselves, was more than displeased. He ripped the decision and the service calling HBOMax, "the worst streaming service." In an interview with Entertainment Tonight, he said, "…they didn't tell anyone. In 2021, they've got some of the top filmmakers in the world, they've got some of the biggest stars in the world who worked for years, in some cases, on these projects very close to their hearts that are meant to be big-screen experiences. They're meant to be out there for the widest possible audiences…and now they're being used as a loss-leader for the streaming service–for a fledgling streaming service—without any consultation. So, there's a lot of controversy. It's very, very, very, very, messy. A real bait and switch."
The director separated as a working partner with Warner shortly thereafter and assuredly became the hottest free agent on the market. Even Netflix tried their best to court the streaming service naysayer, their film chief Scott Stuber stating, "He's an incredible filmmaker. I'm going to do everything I can." But Nolan aligned with Universal for the release of his newest picture. The studio allegedly won favor by promising a six-week blackout surrounding the film's release date where no other Universal properties are to be released, as well as by promising a 100-day exclusive theatrical release.
"Christopher Nolan and Emma Thomas' films have shattered the limits of what cinematic storytelling can achieve," said Donna Langley, Universal Filmed Entertainment Group Chairman, in a statement. "We are thrilled to be working alongside them on this exceptional and extraordinary project and are grateful for their shared passion and commitment to the theatrical experience."
Is There a Trailer for Oppenheimer?
A one-minute teaser trailer was released exclusively in theaters ahead of Jordan Peele's Nope. The trailer was then released online a week later on July 28, 2022.
The full trailer for the film was released exclusively in theaters ahead of IMAX showings of Avatar: The Way of Water.
A different cut of the official trailer was released online on December 18, 2022. The trailer, which is narrated by Cillian Murphy teases a much more emotional and human film than some might have expected from a film about the creation of the nuclear bomb directed by Christopher Nolan but paired with Ludwig Göransson's score, that's what it feels like.
The second full trailer for Oppenheimer was initially released exclusively in movie theaters and played before IMAX screenings of Guardians of the Galaxy Vol 3. On May 8, 2023, Universal uploaded the trailer to their YouTube channel.
What Is Oppenheimer About?
Oppenheimer is an adaptation of the book American Prometheus: The Triumph and Tragedy of J. Robert Oppenheimer by Martin Sherwin and Kai Bird. The Pulitzer Prize-winning book is being adapted into a movie described as, "An IMAX-shot epic thriller that thrusts the audience into the pulse-pounding paradox of the enigmatic man who must risk destroying the world in order to save it."
Oppenheimer was a scientist most famous for leading The Manhattan Project—the team that developed the atomic bomb for the United States of America in World War II. He later served as chairman of the United States Atomic Energy Commission where he worked to slow the developing nuclear arms race with the Soviet Union.
In 1954, Oppenheimer was branded a communist for his affiliation with multiple groups. He was relieved of service from the federal government and would continue his contributions to science as a teacher and groundbreaking theoretical physicist during his exile. He received three Nobel Prize nominations in physics from 1946 to 1967, though he never won one before his death in 1967.
Was Oppenheimer Shot in IMAX?
The above clip highlights the production of Oppenheimer and Nolan's dedication to the IMAX format. If you weren't aware, a regular movie screen has a 16:9 aspect ratio, while IMAX's exclusive 1.90:1 aspect ratio is roughly 26% larger. Most films reserve IMAX cameras for action set pieces, such as the final battle in an Avengers movie, but Nolan chose to shoot the entirety of Oppenheimer in IMAX. It was reported that the rolls of IMAX film that Nolan used to shoot Oppenheimer stretched to 11 miles long, weighing as much as 600 lbs.
Nolan explained why he loves shooting his films in IMAX.
"The sharpness and the clarity and the depth of the image is unparalleled. The headline, for me, is by shooting on IMAX 70mm film, you're really letting the screen disappear. You're getting a feeling of 3D without the glasses. You've got a huge screen and you're filling the peripheral vision of the audience. You're immersing them in the world of the film."
Who is the Creative Team Behind Oppenheimer?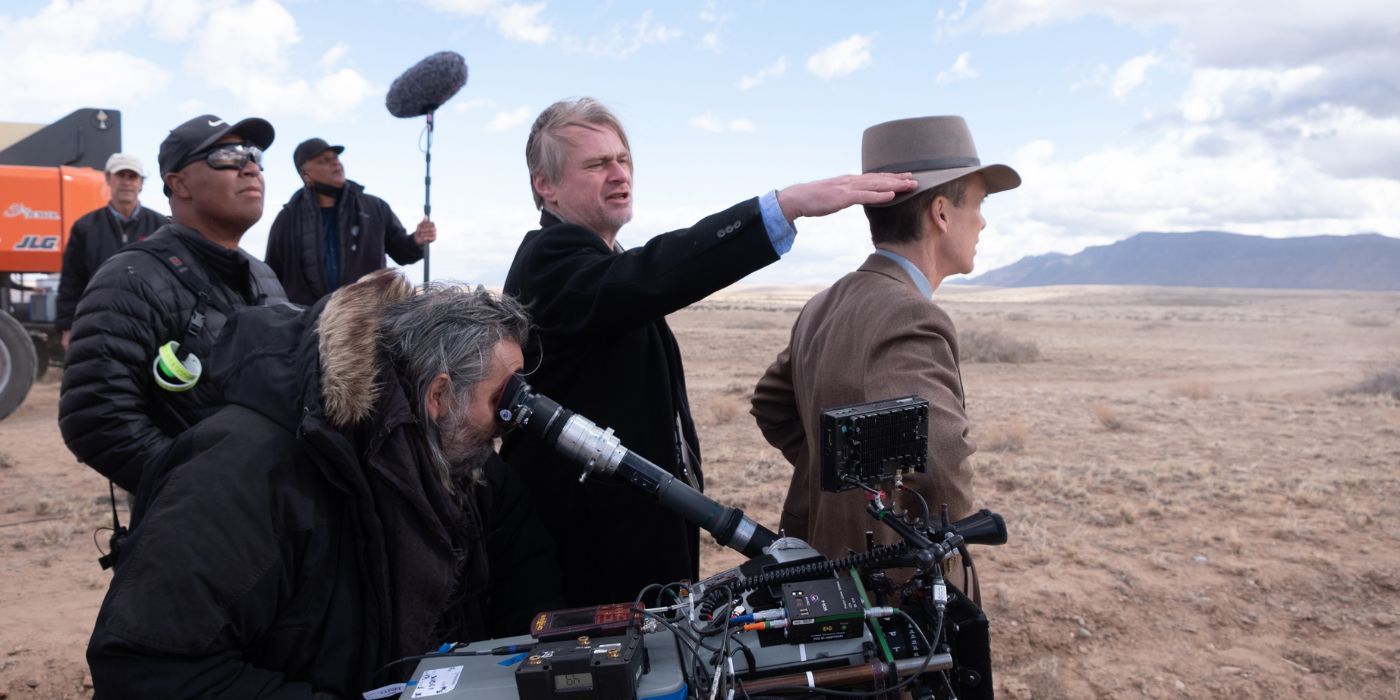 As previously mentioned, Christopher Nolan directed the film and wrote the screenplay. The acclaimed filmmaker also re-teamed with some of his previous collaborators. Academy Award Winner Ludwig Göransson who worked on the score for Tenet will compose Oppenheimer's score. Cinematographer Hoyte van Hoytema who was the cinematographer for Interstellar, Dunkirk, and Tenet serves as the film's DP. Another returnee from Nolan's Tenet team is editor Jennifer Lame who has also worked on films such as Black Panther: Wakanda Forever, Manchester by the Sea, and Marriage Story. Ruth De Jong (Twin Peaks) serves as the film's production designer while Emmy Winner Ellen Mirojnick (Bridgerton) designed the costumes. Academy Award Winner Scott R. Fischer (Top Gun: Maverick) and Laurie Pellard (Avengers: Infinity War) are behind the film's visual effects.
Nolan's wife Emma Thomas is producing the film alongside her husband as well as Charles Roven who previously worked with Nolan on The Dark Knight Trilogy.
Related:Doomsday Approaches for Cillian Murphy in New 'Oppenheimer' Poster
Who Stars in Oppenheimer?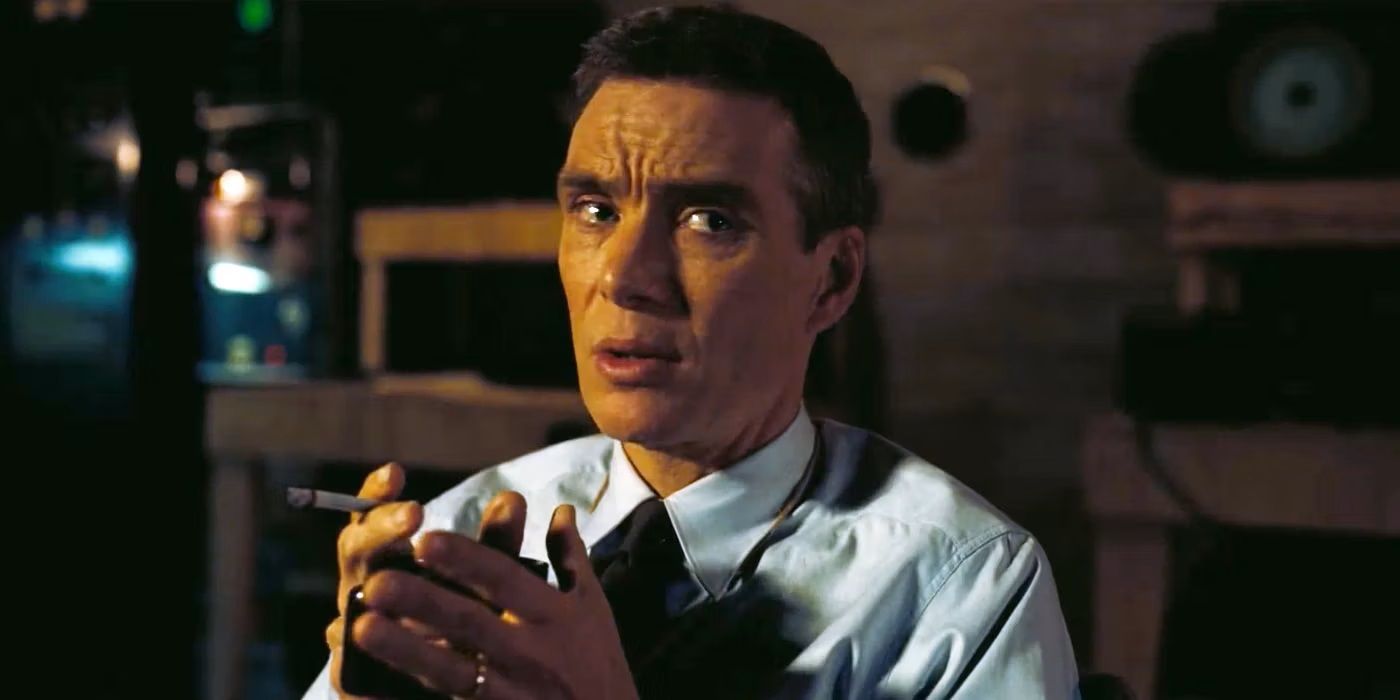 Frequent Christopher Nolan accomplice Cillian Murphy (Peaky Blinders) is set to star as J. Robert Oppenheimer himself. Cillian collaborated with Nolan previously in The Dark Knight Trilogy, Inception, and most recently, Dunkirk.
Emily Blunt (A Quiet Place) reteams with Murphy, her co-star from A Quiet Place II, as Katherine Oppenheimer. Katherine was an activist and scientist, and one of many links between Oppenheimer and the communist ideology.
Academy Award Winner Matt Damon (The Martian) joined the cast as Lieutenant General Leslie Groves. Groves was the military director on the Manhattan Project, and he also oversaw the construction of the pentagon.
It was announced that Academy Award Nominee Robert Downey Jr.(Iron Man) joined the film as Lewis Strauss. Strauss and Oppenheimer found themselves on opposing sides of the debate about the development of the hydrogen bomb in late 1940. Like Oppenheimer, Strauss would go on to serve as chairman of the United States Atomic Energy Commission.
Academy Award Nominee Florence Pugh (Black Widow) is set to star as Jean Tatlock. Tatlock was one of several points of connection between Oppenheimer and communism, and the two were locked in an affair that would spark off and on for years.
It was also announced that Academy Award winner Rami Malek (Bohemian Rhapsody) would play a scientist, and director and actor Benny Safdie (Goodtime) would play Edward Teller—a Hungarian physicist who helped create the first hydrogen bomb.
Oppenheimer also has a massive ensemble which includes Academy Award Nominee Tom Conti (The Dark Knight Rises) as Albert Einstein, Josh Hartnett (Penny Dreadful) as Ernest Lawrence, Dane DeHaan (Chronicle), Jack Quaid (The Boys), Matthew Modine (Stranger Things) as Vannevar Bush, Dylan Arnold (Halloween) as Frank Oppenheimer, Alden Ehrenreich (Solo: A Star Wars Story), as Richard Feynman, David Krumholtz (The Santa Clauses) as Isidor Isaac Rabi, Michael Angarano (Sky High) as Robert Serber, Academy Award Winner Kenneth Branagh (Death on the Nile), David Dastmalchian (The Suicide Squad), Jason Clarke (Winning Time: The Rise of the Lakers Dynasty), Josh Peck (Drake & Josh), as Kenneth Bainbridge, Devon Bostick (Diary of a Wimpy Kid) as Seth Neddermeyer, Alex Wolff (Hereditary), Tony Goldwyn (King Richard), Academy Award Winner Gary Oldman (Darkest Hour) as Harry S. Truman, Academy Award Winner Casey Affleck (Manchester by the Sea), Scott Grimes (The Orville), Josh Zuckerman (The Offer), James D'Arcy (Dunkirk), Matthias Schweighöfer (Army of the Dead), Christopher Denham (The Gilded Age) as Klaus Fuchs, David Rysdahl (No Exit), Guy Burnet (Pitch Perfect 3) as Guy Eltenton, Danny Deferrari (Shiva Baby) as Enrico Fermi, Louise Lombard (CSI: Crime Scene Investigation), Harrison Gilbertson (Need for Speed), Emma Dumont (Licorice Pizza) as Jackie Oppenheimer, Gustaf Skarsgård (Vikings) as Hans Bethe, Trond Fausa (Lilyhammer), Olli Haaskivi (The Falcon and the Winter Soldier), and Olivia Thirlby (Juno).
When and Where Did Oppenheimer Film?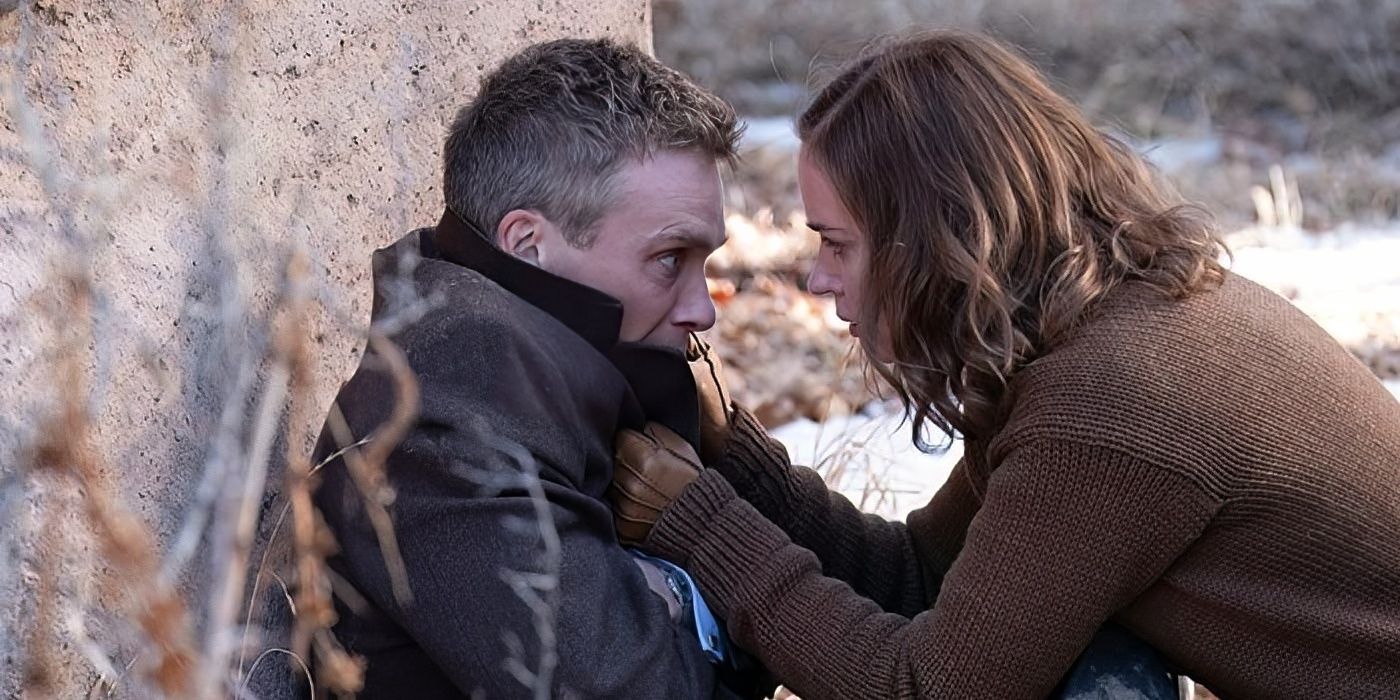 Pre-production on Oppenheimer began in January 2022 in New Mexico, and filming kicked off a month later. Filming wrapped the following May.