"Everything I said in that clip that went viral about him, I said it to his face." JJ Redick is adamant about describing Zion Williamson as "aloof."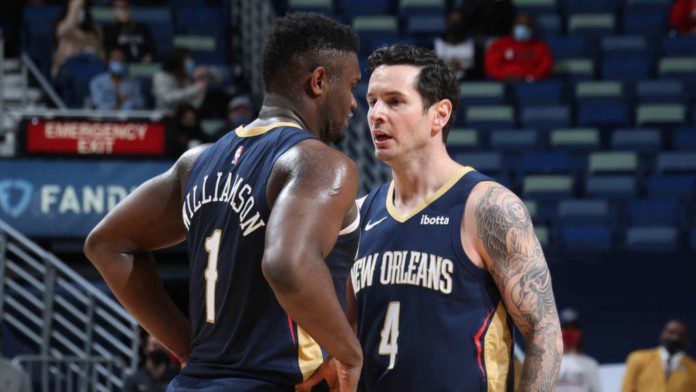 JJ Redick has deflated his comments on Zion Williamson but stands firm. According to JJ, Williamson is "standoffish" as he shuns any kind of connection with his team and teammates.
The 21-year-old Zion had made a name for himself in the league as an exciting and athletic "big boy". His speed and dunks amazed many, as the 6'6″ and 290 lbs star was able to rise easier than expected. In his sophomore season with the team, he averaged 27 points per game along with 7 rebounds and 4 assists. But all the fuss ends here as Zion Williamson was criticized for his lack of 'chemistry' with teammates and JJ Redick, who had personally witnessed this, had commented.
In a recent conversation with Pat McAfee, JJ Redick reiterated his views and made it clear "again". yy called"Everything I said about Zion in that viral clip I said to his face. When we talked about it, I spoke to him in front of the team."
JJ Redick points out Zion Williamson's problem
Zion Williamson is a promising player for the New Orleans Pelicans and certainly has a bright future in the league. But his behavior towards the team and fellow players throws him in a bad light. When asked recently about the interview with Zion, Pelicans' newest recruit, CJ McCollum, said he hasn't spoken to the youngster yet.
Also Read: Colin Cowherd Weighs in JJ Redick Destroying Chris Russo for 'RACIST' Against Draymond Green
Even Zion Williamson was out due to his foot injury, but the length of his absence didn't sit well with some fans and even JJ. Veteran JJ Redick expressed his concern in this regard when he said: "There is a responsibility that you have as an athlete when you play a team sport to be fully invested. You're fully invested in your body, you're fully invested in your work, and you're fully invested in your teammates. That is your responsibility, and we of Zion have not seen that."
JJ Redick was part of the Pelicans franchise just one season before retiring. He and Williamson were teammates from 2019 to 2021. Redick joined ESPN as an NBA analyst after retiring, and Zion also missed the entire 2022 season with a foot injury.
With the latest information from CJ McCollum, Williamson's possible problems as a teammate have resurfaced. said CJ at the All-Star Gala, "I didn't speak to him directly. … I've spoken to a few people close to him and look forward to sitting down with him sooner or later. I know as much as you do right now, but I'll get to the bottom of it."
JJ wasn't surprised by Zion's behavior but expects an improvement. Redick, 37, hasn't downplayed Zion's performance and commitment to the game, saying he "Yes, there were moments when I referred to him as a Stendofish teammate, not a bad teammate. Let's get that straight. Problem was the guy wasn't on the team, they trade for CJ McCollum. CJ played 5-6 games before the All-Star break.
And after CJ's information about no words from Zion, Redick said, "I had a problem with that because the basic college is a teammate." He added that regardless of a player's position on the team, everyone should approach each other as part of a team. JJ could have made a very important point here as statistically it builds healthy chemistry and also helps win games.
Zion is expected to play from the start of next season.
Also Read: Khris Middleton's Injury Status Receives Critical Update That Could Worry Giannis Antetokounmpo and Milwaukee Bucks
Also Read: Stephen A. Smith's Angry Call From Kyrie Irving Over 'Martyr' Taking Over The Nets Season Goes Viral
https://firstsportz.com/nba-news-jj-redick-stands-firm-in-calling-zion-williamson-a-standoffish/ "Everything I said in that clip that went viral about him, I said it to his face." JJ Redick is adamant about describing Zion Williamson as "aloof."