'Everything has a limit' – Fans unhappy with RR-Admin after he posted hilarious pic of Sanju Samson » FirstSportz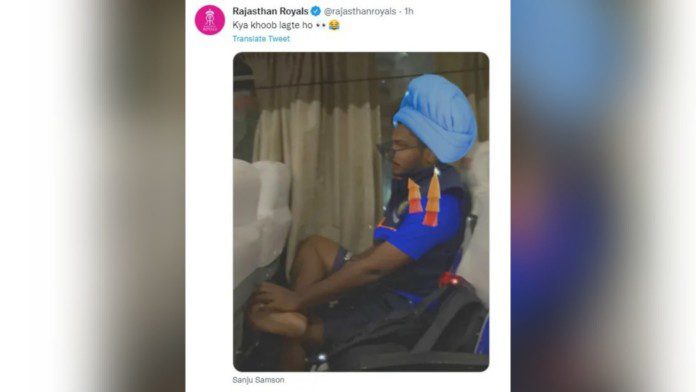 Rajasthan Royals is the most active on social media among other IPL teams. They keep posting funny stuff about their players. But when they shared a hilarious photo of Sanju Samson on Twitter, Samson's response stormed the internet and confused fans once again.
On Friday, March 25, the Rajasthan Royals shared a hilarious picture of team captain Sanju Samson on their official Twitter account. They used a filter on Samson's photo and altered his image. RR's leg spinner Yuzvendra Chahal is famous for such activities. But when RR shared Samson's photo, an angry Samson reminded the franchise's Twitter admin that it's okay for friends to do things like this, but a franchise should practice professionalism. RR later deleted the original tweet of Samson's picture.
Here is Sanju Samson's answer:
Also Read | IPL 2022: Jos Buttler hilariously reacts to Yuzvendra Chahal's post 'will open with Buttler'
Sanju Samson, the PR of Rajasthan Royals?
The purpose of this tweet could also be to be interactive with the fans. A few days earlier, the name of Rajasthan Royals was in the headlines jokingly. It was Chahal who started it.
When RR shared a video of Chahal ordering food for his wife, Chahal took revenge on RR by hacking her Twitter handle. He caused confusion among fans by declaring himself the captain of the RR team. Even more hilariously, he shared a picture of him asking fans that if they retweeted the picture he would open the game with RR's wicket keeper Jos Buttler.
Rajasthan Royals meet Sunrisers Hyderabad in Pune on March 29. RR hasn't even made the playoffs since 2018. They hope to bounce back in the 15th edition of the game.
In the inaugural season of the IPL in 2008, under the captaincy of the late Shane Warne, RR had won the trophy, defeating Chennai Super Kings. The final season of the IPL starts the next day, that is Saturday, March 26 between the defending champions CSK and the Kolkata Knight Riders.
Also Read | "Am inside the crease" – Jos Buttler reacts as Ravichandran Ashwin was bought by Rajasthan Royals at the IPL 2022 Mega Auction
https://firstsportz.com/cricket-sanju-samson-angry-rajasthan-royals/ 'Everything has a limit' – Fans unhappy with RR-Admin after he posted hilarious pic of Sanju Samson » FirstSportz