DWTS pros Val Chmerkovskiy and Jenna Johnson reveal miscarriage before Rainbow Baby was born
"I sprinted to our hotel room and lost the baby in our hotel room," recalls Jenna, who gave birth to her and Val's first child in January.
Valentin "Val" Chmerkovskiy and Jenna Johnson speak for the first time about the challenges they've faced in their desire to expand their family.
In an interview on Thursday's episode of Good Morning America, the Dancing with the Stars pros revealed they suffered a miscarriage in 2021 before giving birth to their first child, son Rome, in January.
The two detailed the heartbreaking loss while also talking about their life as the new parents of their rainbow baby.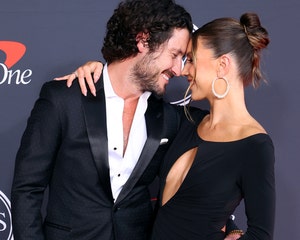 Getty
Jenna Johnson and Val Chmerkovskiy welcome first child together, DWTS stars react

view history
"We were in Dallas for a show and while we were practicing we were doing something and I just turned to him. I said, 'Oh, I'm — I think I'm bleeding,'" Johnson explained. "And immediately my heart sank. I could see his face just go white."
"I sprinted to our hotel room and lost the baby in our hotel room," she added.
The professional dancer said "nobody knew" they were pregnant at the time — or had lost their baby.
"We were so excited," she recalled, admitting that she "didn't want to dance for a while" because she was "so angry." However, Jenna said dance ultimately became an "escape" for her during the difficult time.
"I was so, so sad," she said, getting emotional. "I was so hurt."
In July, Johnson, 28, and Chmerkovskiy, 37, announced they were pregnant.
Six months later, Val and Jenna welcomed their baby boy and shared the exciting news on their Instagram pages.
"Our world has changed forever," Johnson captioned the picture alongside her new son's birth date on Jan. 10.
A month later, the two shared the first photo of their beautiful bundle of joy and revealed their baby's name.
"Rome Valentin Chmerkovskiy ✨," Jenna captioned a photo of her son. "I can't believe I've been completely infatuated with you for 4 weeks. Thank you for opening my heart wide and showing me what unconditional love is. Mommy and Daddy love you so much!!!"
During their appearance on "GMA", the couple, who have been married since 2019, spoke about their previous experiences as parents.
"He was my biggest support system while I was pregnant," Jenna said of her husband. "So tender and sweet. Those exhausting, tired moments when you get up together at 4:00 a.m. and you're like, 'Oh my god, this is my teammate and he's ready to do this to me.'"
Praising his wife, Val said, "I think the rush of love has definitely flooded me more in terms of my wife," he said. "I never loved her more, I never appreciated her more."
Waiting for your permission to load the Instagram media.
https://toofab.com/2023/03/30/dwts-pros-val-chmerkovskiy-jenna-johnson-reveal-miscarriage-before-rainbow-baby-birth/ DWTS pros Val Chmerkovskiy and Jenna Johnson reveal miscarriage before Rainbow Baby was born