'Come out of retirement and beat Colby' – Brendan Schaub tells Khabib Nurmagomedov to stop talking and do something about Colby Covington » FirstSportz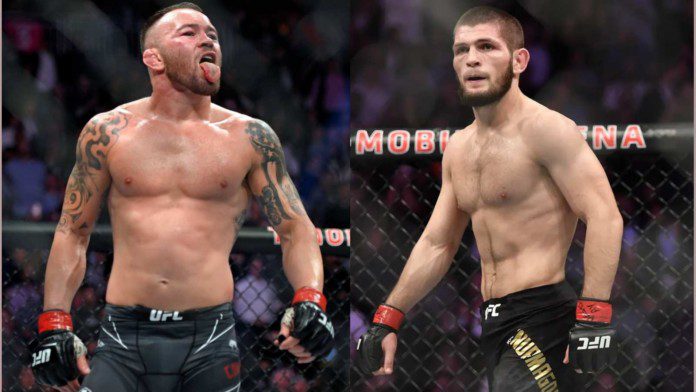 Brendan Schaub bangs on Khabib Nurmagomedov! Recently, Jorge Masvidal ambushed Colby Covington outside Papi Steak Restaurant in Miami, Florida, injuring his former best friend in his crushing attack. After Masvidal was reported to the police, he was arrested for criminal mischief. It is reported that Covington also filed charges against Masvidal.
Khabib Nurmagomedov is not happy that Covington had to call the police. According to the former lightweight champion, Colby pushed the envelope with his trash talk when he spoke badly about Masvidal's kids. Nurmagomedov justifies Jorge's attack. In a recent tweet, Khabib came out in support of the BMF champion.
He wrote, "If you're stronger than someone in the octagon, that doesn't mean you can offend their children. Nobody has the right to insult someone else's family. If you have walked this path, then be prepared to back up your words." wrote Nurmagomedov.
Relative – 'Don't believe everything you read' – Jorge Masvidal's manager accuses Colby Covington of lying
"You were attacked by a professional fighter, just like you, your own size, and you are reporting him to the police? I think all welterweights should refuse to fight Colby, just don't accept fights with him, let him sit without a fight, it will probably affect him significantly and any fighters who even think about offending families who provoke the fighters , look for someone in restaurants to take care of him."
"He keeps himself relevant"– Brendan Schaub accuses Khabib Nurmagomedov of trying too hard to stay relevant
Brendan Schaub is a former UFC fighter and runs a very famous Youtube channel, where he discusses the latest controversies. He took notice Khabibs commenting, and he slammed him for trying to blacklist Colby from the competition, he said: "What are you doing, old man? Always trying to hit the headlines with hot takes, right? And I love Khabib, but that's no hill to die for. 'Boycott him.'"
"I have an idea, Khabib, why don't you come out of retirement and beat Colby. Why don't you do it the legal way? Khabib, he keeps himself relevant, he has his fight league and stuff like that. He said: "If Conor beats Makhachev, I'll come out of retirement." It's all OK! Keep the same energy here."
"I'm with (Khabib) if it was a regular street fight if (Colby) knew what's going on cool man you guys handle it how you want it. But you got all this bad blood and it's dripping out of the octagon and you do that? Alright do it man. But hitting another man is the biggest b***-sh*** in the world' Schaub concluded.
Also read – 'Chris Rock has not filed charges' – Jake Paul condemns Colby Covington for filing charges against Jorge Masvidal after a fight at the restaurant
https://firstsportz.com/ufc-schaub-on-khabib-nurmagomedov-colby-covington/ 'Come out of retirement and beat Colby' – Brendan Schaub tells Khabib Nurmagomedov to stop talking and do something about Colby Covington » FirstSportz