College basketball hit hard by COVID-19 canceled: Duke, Illinois latest joins list of suspended teams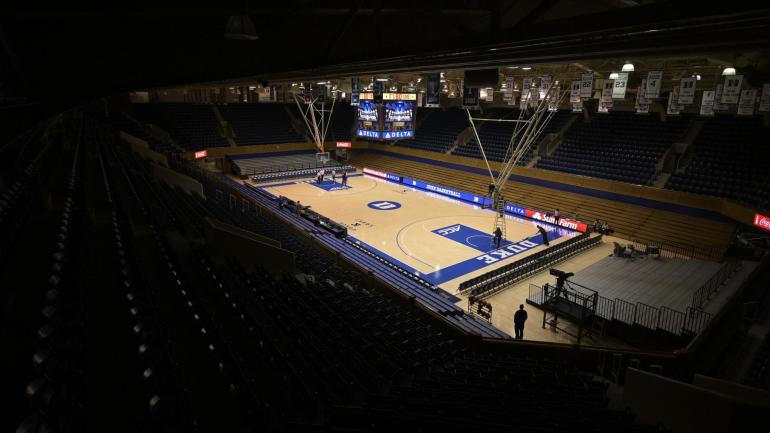 beautiful pictures
The appearance of the omicron variant fueled the outbreak of the COVID-19 problem across American sports that refuses to terminate. College basketball has had dozens of COVID pauses at programs around the country over the past two weeks. Below is the full list of suspended schools.
The latest key schools to announce positive cases in their boys' basketball program: Duke, Illinois, Georgetown, and Virginia Tech. The ACC had to stop four intramural games this week: Duke at Clemson, Florida State at Boston College, Virginia Tech at North Carolina, and the Duke at Notre Dame Cathedral.
Between cancellations and postponements, more than 90 games have been affected in the first seven weeks of this season.
It remains to be seen how harmful the Christmas break (when many players go home to visit family) is, along with the positive trend of increased omicron cases across the country, affecting basketball. college is coming up on New Year's Eve and early January. For a closer look at how omicrons have impacted college sports, Read our in-depth section here.
Teams have taken a COVID pause this season
Below is a list of schools affected by the COVID-19 protocol, which will be updated as needed, if more schools are needed. Last Updated: Monday at 12:45 p.m. ET.
US (currently paused)
Binghamton (currently paused)
Boston College (currently on pause)
Bryant (currently paused)
State of Chicago
Cleveland State (currently paused)
Colorado (currently paused)
State of Colorado (currently paused)
Coppin status (currently paused)
DePaul (currently paused)
Drexel (currently paused)
Duke (currently paused)
Duquesne (currently paused)
Eastern Michigan (currently paused)
Evansville (currently paused)
Fairleigh Dickinson (currently paused)
FIU (currently paused)
State of Florida (currently paused)
Fordham (currently paused)
Georgetown (currently paused)
Georgia Tech (currently paused)
George Washington (currently on pause)
Georgia Tech (currently paused)
Grand Canyon (currently paused)
Hampton (currently paused)
Harvard
Hawaii (currently paused)
Houston (currently paused)
Illinois (currently paused)
James Madison (currently paused)
Long Beach State (currently paused)
Louisville (currently paused)
Loyola Chicago (currently paused)
Loyola Maryland (currently paused)
Memphis (currently paused)
Morgan State (currently paused)
NJIT
Norfolk State (currently paused)
Northeast (currently paused)
Northern Illinois (currently paused)
Ohio State (currently paused)
Penn State (currently paused)
Purdue Fort Wayne (currently paused)
Rhode Island (currently paused)
Rice (currently paused)
Rutgers (currently paused)
Saint Joseph's (currently paused)
Saint Louis
San Jose State (currently paused)
Seton Hall
St. Francis Brooklyn (now paused)
Stanford (currently paused)
Texas Southern (currently paused)
Tulane (currently paused)
UCLA (currently paused)
UC Irvine (currently paused)
UC Riverside (currently on pause)
UNC Greensboro
USC (currently paused)
UTRGV
VCU (currently paused)
Virginia Tech (currently paused)
Washington
https://www.cbssports.com/college-basketball/news/college-basketball-hit-hard-by-covid-19-cancellations-duke-illinois-latest-to-join-the-list-of-paused-teams/ College basketball hit hard by COVID-19 canceled: Duke, Illinois latest joins list of suspended teams