Champions League Top 50: Real Madrid, Man City, Chelsea, Bayern, Napoli, Inter, Benfica, AC Milan's, best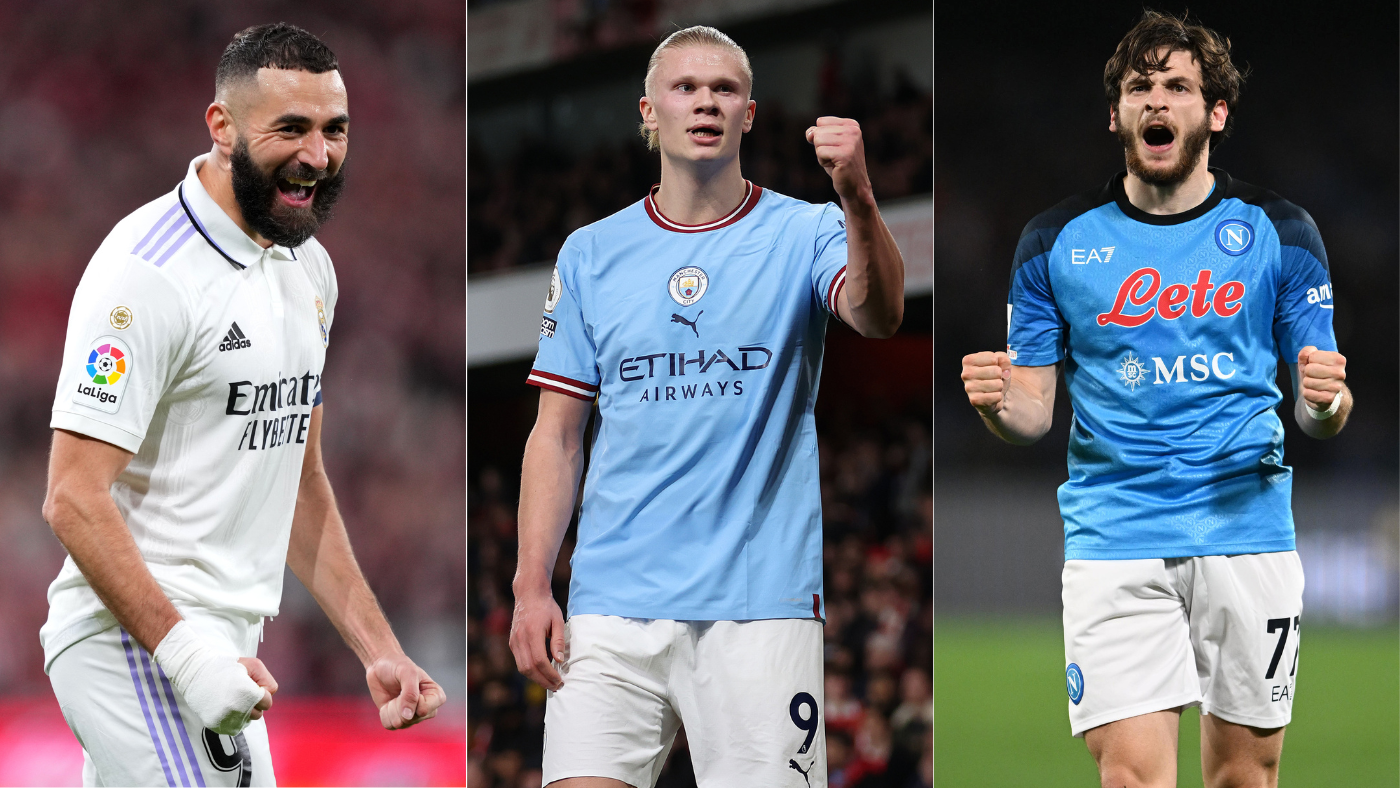 UEFA Champions League quarterfinal action is nearly here. Eight teams remain in the most storied continental cup competition in the world with some massive clashes taking place across the next couple weeks (you can catch all the action on Paramount+). While some big names have bounce out of the competition most notably Lionel Messi and Kylian Mbappe of Paris Saint-Germain, many of the world's best players remain in the fight for European supremacy. 
But who are the 50 best players left in UCL? Our team voted, and here they are:
Players by team:
Bayern Munich: 10
Real Madrid: 9
Manchester City: 9
Napoli: 7
AC Milan: 4
Chelsea: 4
Inter: 4
Benfica: 3
Craving even more coverage of the world's game? Listen below and follow ¡Qué Golazo! A Daily CBS Soccer Podcast where we take you beyond the pitch and around the globe for commentary, previews, recaps and more.  
50. Romelu Lukaku, forward, Inter
Though the Belgian is not the force he was in his first go round at Inter, there have been signs of stirring in recent weeks. Eight of the 10 goals Lukaku has scored for club and country this season have come since February 18, including the decisive goals that carried Inter past Porto in the round of 16. If he and Lautaro Martinez can click again in the coming weeks then Inter will have an attack to be feared by the rest of Europe even if for the time being the aura of Lukaku is rather more intimidating than the performances.  – James Benge
49. Andre Onana, goalkeeper, Inter
According to Opta's advanced goalscoring metrics Onana is the best performing goalkeeper in the Champions League this season and it isn't even close. Indeed the Inter goalkeeper has conceded almost one goal fewer per 90 minutes than the expected goals value of the shots he has faced. Nowhere was his excellence more apparent than when Inter clung on to their quarterfinal spot against Porto, a string of stirring saves in both games proving that there is more to the Cameroonian than his exceptional distribution. He is rarely spoken of in these terms but Onana deserves to rank among the top goalkeepers in the game.  – James Benge
48. Dayot Upamecano, center back, Bayern Munich
Finally a fixture for both club and country, the Frenchman is establishing himself as one of the game's finest defenders. Now 24, Upamecano just excelled at the FIFA 2022 World Cup with Les Bleus as finalists in Qatar and he was instrumental in knocking out PSG in the round of 16. Thomas Tuchel often builds his defenses around imposing figures and Upamecano fits that profile. Seeing him up against Erling Haaland across two legs in the quarterfinals is a mouthwatering prospect. – Jonathan Johnson
47. Rodrygo, winger, Real Madrid
In a star studded team like Real Madrid, it can be easy to fade into the background but this has been a breakout season for Rodrygo as he is beginning to establish himself as one of the first team regulars. Able to play across the front three or as an attacking midfielder, the Brazillian has pushed his game to a new level to ensure that he stays in the XI. Scoring worldies as well as creating chances for others, Rodrygo has stepped up to Carlo Ancelloti's challenge by registering 11 goals and 10 assists in all competitions. –  Chuck Booth
46. Alphonso Davies, left back, Bayern Munich
He's here, he's there, he's everywhere! Davies has quickly become one of the best left backs in the world after moving to Bayern Munich and learning how to play the position after to being a winger by trade. Year after year he has become better at defending while keeping his eye for joining the attack and he's bringing it all together this season for one of his best campaign's in a Bayern shirt. An important part of the build up and able to contain opposition wingers in one-on-one battles, Davies is now as consistent as they come.  – Chuck Booth
45. Joao Felix, forward, Chelsea
Amid the many, many, many signings gone wrong at Chelsea this season, Felix has the look of money well spent, quite something when Atletico Madrid were paid £9.7 million just to loan out a 23 year old who would miss the three games that followed his debut after getting a red card. Felix might be an awkward fit in a frontline that is crying out for a focal point center forward but his vision, darts of speed and finishing qualities have been on full display so far in Chelsea blue. – James Benge
44. Olivier Giroud, forward, AC Milan
Evergreen for club and country at 36, the Frenchman is expected to extend his stay at the San Siro beyond this summer in the coming weeks. Giroud's selfless attitude and imposing style has made him almost indispensable for both Milan and Les Bleus and like teammate Zlatan Ibrahimovic, increasing age seems to hold little physical issue for him. He might not be as prolific as he once was but the former Chelsea and Arsenal man remains a star turn in Serie A. – Jonathan Johnson
43. Milan Skriniar, center back, Inter
The Slovakia captain has been struggling with injury of late and no longer wears the Nerazzurri armband after declaring himself PSG-bound this summer but he remains an influential defender when fit. Skriniar's last major minutes came in the 1-0 win over Porto back in February and it is going on two months that he has been unable to start for Simone Inzaghi's side so  a two-legged quarterfinal against Benfica would be the ideal moment for the 28-year-old to return to the back line. – Jonathan Johnson
42. Serge Gnabry, winger, Bayern Munich
It has been a tough year for Gnabry, criticized by senior figures at Bayern Munich for attending Paris Fashion Week and an increasingly polarizing presence among supporters too. It says everything then that the 27 year old still has 12 goals and 11 assists in all competitions, a down year for him that would be standout figures for most players. Included in that tally are a goal against PSG and a hat trick of assists in a drubbing of Barcelona, a reminder that Gnabry tends to deliver in the biggest games. – James Benge
41. Matthijs De Ligt , center back, Bayern Munich
It has not been an easy start to life for the Netherlands international in Munich, but his heroic clearance in the Champions League round of 16 second leg against PSG prevented a certain goal and helped the Germans towards victory over the French side. Still only 23, it feels like De Ligt has been around for a lot longer given that he burst onto the scene with Ajax back in 2016. A relative mainstay in the Bayern defense, expect Thomas Tuchel to build around the Dutch defender. – Jonathan Johnson
40. Thiago Silva, center back, Chelsea
Managers change, millions are spent on new defenders and still Thiago Silva remains, the season long stopgap signed by Frank Lampard that is still at the heart of Chelsea's plans on the interim manager's second go around. At 38 years of age it is perhaps no surprise that Silva cannot give them three games every week over the course of the season but the veteran Brazilian tends to deliver when needed on the biggest occasions. – James Benge
39. Nikolas Otamendi, center back, Benfica
The assumption was that once he left Manchester City for Benfica, you probably wouldn't hear much about him again. Wrong. Not only has he turned back the clock with his incredible performances, he was the heart and soul of the Argentina defense in their triumph at the 2022 World Cup. He's viewed as just a soldier in the middle, a guy that will defend the badge like his life is on the line. He'll never shy away from contact, in fact, he'll embrace it. He may not have as much pace as he used to, but he makes up for it with an improved understanding and awareness. – Roger Gonzalez
38. Eder Militao, center back, Real Madrid
The Brazilian center-back quickly became a key player for Carlo Ancelotti and Real Madrid in the past seasons as he's also now a key personality inside the dressing room. Militao, after some initial doubts when he arrived at the club in the summer 2019, is now one of those players that Ancelotti considers as part of the backbone of his starting eleven. And can also score some goals, as he already did six times this season. – Francesco Porzio 
37. Thomas Muller, forward, Bayern Munich
Still decisive at 33 years of age, Muller remains one of Bayern's strongest figureheads. One of the select few one-club men in the game, the Germany international helped Thomas Tuchel to a winning start as Bayern boss and looks ready to rediscover the ruthless edge that has made him so successful throughout his career. The question now is whether or not he finishes his career at Allianz Arena. – Jonathan Johnson
36. Theo Hernandez, left back, AC Milan
Well and truly established in both Milan and France's starting XI's, the 25-year-old has risen to the role of vice-captain behind one-club man Davide Calabria. At home as part of a sizable French-speaking contingent, the versatile left-sided menace is a regular source of goal-related actions be it scoring or creating them. At his best in an attack-minded role, Hernandez has shown enough discipline when asked to focus himself more defensively and a reunion with brother Lucas' Bayern Munich could be on the cards if both Milan and the Germans can advance. – Jonathan Johnson
35. John Stones, center back, Manchester City
Who knew he was Mr. Versatile? Well, Pep Guardiola apparently. The English center back has found himself in the midfield and at right-back for the blue side of Manchester City, and he's been solid everywhere. He may not create the buzz those around him do, but he's held his own and has become a big part of what City do, depending on the gameplan. The effort is always there, and he's ability to potentially impact attacking set places is always a bonus. – Roger Gonzalez
34. Andre-Franck Zambo Anguissa, midfielder, Napoli
One of the most underrated figures in what could end up being an historic season for Napoli is the Cameroon international in midfield. An all-action presence in the middle of the field, the 27-year-old has even chipped in with a few goals which is not normally his strong suit — he has scored more times for his country than at club level. Zambo Anguissa has found a permanent home for himself under Luciano Spalletti after loan spells with Villarreal and then Napoli and combines extremely well with Stanislav Lobotka and Piotr Zielinksi behind a fearsome attacking unit. – Jonathan Johnson
33. Leon Goretzka, midfielder, Bayern Munich
The Germany international has steadily been gaining in importance over the past few years and is now recognized as one of the most accomplished German midfielders. Not yet 30, Goretzka is one of the figures that Tuchel will build the spine of his Bayern side around like teammate Joshua Kimmich. Watching him going up against Manchester City and fellow VfL Bochum academy graduate Ilkay Gundogan promises to be a fascinating quarterfinal watch. – Jonathan Johnson
32. Joao Cancelo, fullback, Bayern Munich
The Portuguese left (and right) back was at the center of one of the most surprising deals of the January transfer window, as he moved on loan with a buy option from Manchester City to Bayern Munich. However, it's already known that the German club won't pay the €70 million fee to buy him permanently at the end of the season. The two clubs will sit down and talk about the potential transfer but it's not clear yet what the new Bayern Munich coach Thomas Tuchel is planning to do with the talented player. Cancelo, on the other hand, definitely wants to impress in the coming weeks to show his potential as many clubs will probably be in the race to sign him this summer. – Francesco Porzio 
31. Ilkay Gundogan, midfielder, Manchester City
The arrival of Erling Haaland has perhaps robbed the footballing public of the chance to witness Gundogan at his very best, charging late into the penalty area to stroke home a first time finish with precision. However in this new City side the veteran German still manages to attack the box whilst playing a crucial role in build up as a progressive passer, a ball carrier and a secondary outlet in the final third. – James Benge
30. Stanislav Lobotka, midfielder, Napoli
One of the secrets of this team. Napoli are flying this season in the Serie A as they are getting close to win their first Scudetto in 33 years. Luciano Spalletti was the mastermind behind this success and as we approach the quarter finals we can see also that at the European level. The former AS Roma and Inter coach was able to improve players that had some difficulties to adapt to Italian soccer since his arrival, such as Stanislav Lobotka who is now one of the key players of this team. – Francesco Porzio 
29. Joao Mario, winger, Benfica
A winger who has bounced around to team after team each year, it feels like Mario has found a true home at Benfica under Roger Schmidt. Enjoying a breakout season with 23 goals and 12 assists in all competitions, Mario can play on either side of the pitch to help give defenses nightmares when dealing with other cogs in the Benfica attack. Part of the reason that the team hasn't missed Darwin Nunez is due to Mario's performance as he's been confident from the penalty spot, scoring 12 penalties from 14 attempts. And while that has inflated his goalscoring numbers, nine non penalty goals and 12 assists is still impressive from an attacker who has never surpassed 18 goal contributions in all competitions in an entire season before now. – Chuck Booth
28. Goncalo Ramos, forward, Benfica
The latest wonderkid to emerge from the Estadio da Luz, Goncalo Ramos has already outshone Cristiano Ronaldo on the world's biggest stage before delivering goals for Benfica in the Champions League knockout stage. At just 21 years of age, Ramos largely profiles as a pure scorer for the moment but then that is no bad thing to be. – James Benge
27. Giovanni Di Lorenzo, right back, Napoli
The Italian right back showed major improvement, especially since the summer 2021 when he became a European champion with his national team. Since he joined Napoli from Empoli, he immediately became a starter and since this season he's also the captain after Lorenzo Insigne left Napoli in the summer 2022 to join Toronto FC. – Francesco Porzio 
26. Lautaro Martinez, forward, Inter
The Argentinian striker had a very strong start to 2023 with Inter after he won the 2022 World Cup with his national team. Lautaro scored 17 goals this season with the Italian club in all competitions, but in the last weeks his performances were disappointing, like the ones of his club that already lost ten games in this Serie A season. Lautaro's performance will definitely be crucial against Benfica, and the Argentinian striker will try to score as he only did it once up to now in the European campaign at the Spotify Camp Nou against FC Barcelona, in what was probably the deciding goal that led Inter to qualify for the Round of 16. – Francesco Porzio 
25. Phil Foden, winger, Manchester City
You could argue he's the most talented player at Manchester City. The young Englishman is a delight on the ball, weaving past defenders to either set up his teammates or put the ball away himself. At any moment in the game, if you get him the ball on the wing to run at goal, you know you have a chance to create an opportunity to win the match. He's a difference maker like few others, one who looks on his way to scoring a career-high in goals,, currently four off the pace. – Roger Gonzalez
24. Ruben Dias, center back, Manchester City
It can be hard to appreciate a defender of Dias' quality because when you've performed at a high level for so long, it becomes the expectation that you'll keep it up. Injuries have held him out of matches this season but it hasn't stopped Dias from being an absolute rock for City both in defense but also in the buildup interchanging passes with Rodri while the team calculates their best mode of attack. Rarely out of position, Dias doesn't have to dive in for flashy tackles which only helps highlight his impressive positioning. – Chuck Booth
23. Mike Maignan, goalkeeper, AC Milan
Arguably one of the best goalkeepers in the game right now, France's new No. 1 showed his skills during the recent UEFA Euro 2024 qualifiers with a series of impressive saves against the Netherlands and the Republic of Ireland. Maignan's importance to Milan was also underlined as he returned for the second leg of their UCL round of 16 clash with Spurs with another clean sheet. The 27-year-old will be tough for Napoli to find a way past as he proved recently when the Rossoneri thumped the Serie A leaders 4-0 on the road. – Jonathan Johnson
22. Bernardo Silva, midfielder, Manchester City
That Pep Guardiola so frequently changes Silva's position is a sign of the reliability and technical quality that the Portuguese technician brings across the pitch, be it next to Rodri, off the right or during that slightly bizarre excursion to the left back spot. There are few attackers who are quite as shrewd in their pressing as City's No.20. If he gets the ball back you can rest assured he'll make the right decision with it. – James Benge
21. Jack Grealish, winger, Manchester City
The talk of a £100 million flop was always overblown, a reflection of discourse more interested in goal contributions than whether a player is doing what their manager wants them to. Regardless it has evaporated since the World Cup; Grealish has been among City's very finest performers and has offered goals and assists in abundance. The pleasure he took in running rings around Trent Alexander-Arnold points to a player who feels as at ease in a Manchester City shirt as he did Aston Villa's. – James Benge
20. Sadio Mane, forward, Bayern Munich
Entering a new challenge at Bayern Munich, Mane has only appeared in 30 games across all competitions for the club but that hasn't stopped him from making an impact with 11 goals in those matches. Popping up anywhere in attack, Mane has been one of the reasons that Bayern's almost position-less way of fluidly attacking works. Having Mane back at full health when the team needs him most will be quite a boost for Bayern moving forward as not only does he improve the attack by being on the pitch but his pressing will help them win the ball higher to start attacks from advantageous positions. – Chuck Booth
19. Toni Kroos, midfielder, Real Madrid
Real Madrid may be working on turning the keys to their midfield over to the next generation of Galacticos but the old guard isn't planning on letting that happen overnight. Not able to go 90 minutes in most matches in his age 33 season, Kroos hasn't let that limit him making an impact on matches keeping possession ticking over from deep before hitting a devastating pass to spring the team on the counter attack. – Chuck Booth
18. Jamal Musiala, midfielder, Bayern Munich
Watching Bayern Munich, it's impossible to miss Musiala's impact on a match. Despite being surrounded by stars who have been there and done it all, Musiala has been able to rise and become one of the top chance creators in the team at only the age of 20. Devastating on the dribble, Musiala's directness can get the other members of the attack the space that they need to make the opposition pay. While he has yet to score a goal in Champions League play this season, with 11 Bundesliga goals and eight assists, realizing that Musiala will only improve as a soccer player is quite a scary prospect. – Chuck Booth
17. Enzo Fernandez, midfielder, Chelsea
Enzo Fernandez, the jewel of Argentina soccer. Remember, he wasn't even pushing a starting spot at the World Cup, but after all went downhill to open against Saudi Arabia, he entered the starting XI and never looked back. That led to his £106.8 million transfer from Benfica to Chelsea. A graceful, elegant midfielder with the awareness to know when somebody is coming and the precision to play the ball exactly where he wants it, he's got all the makings of being one of the top five or so midfielders in the entire world. He doesn't often do something that will leave your jaw dropped, but for those that really understand and appreciate the game, he's like watching an artist paint. — Roger Gonzalez 
16. Piotr Zielinski, midfielder, Napoli
The Polish midfielder is probably one of the most underrated players around Europe. Zielinski was consistent and had some good numbers in the past years, but Luciano Spalletti's impact was once again fundamental here. Spalletti's tactical system and way of playing has always been beneficial for the attacking midfielders, as it happened in the past with players such as Radja Nainggolan or Simone Perrotta. Zielinski is once again proof of the good work of the Italian coach with these kinds of players. – Francesco Porzio 
15. Kim Min-Jae, center back, Napoli
After selling Kalidou Koulibaly to Chelsea last summer, Napoli immediately decided to sign Kim min-Jae from Fenerbahce and now we totally understand why. The Azzurri paid the €19 million release clause and they currently have in their roster one of the best center-backs around Europe. His pace and strength help him to be a modern defender that can potentially play in all the best clubs around the world. – Francesco Porzio 
14. David Alaba, center back, Real Madrid
One of the most versatile defenders in the world, it doesn't matter to Alaba if he's the last man in defense or if he's stepping into midfield to help lead the attack which makes him perfect for a team like Real Madrid. With so much focus on individual brilliance from their attackers, defenders are left on islands but that is an area where the Austrian thrives. – Chuck Booth
13. Rafael Leao, winger, AC Milan
Against Napoli in Serie A we finally saw the best version of Rafael Leao again. The Portuguese striker has had some difficult months after coach Stefano Pioli switched the tactical system to a back three but now that AC Milan started again to play with the old system four man defensive system, Leao immediately shined again. The Rossoneri are also in talks to extend his deal beyond 2024, before it will be too late. He's one of those players to watch in these quarterfinals. – Francesco Porzio 
12. Federico Valverde, midfielder, Real Madrid
To think how little he cost Real Madrid from Penarol to then morph into one of the most versatile, consistent players in the world, and then you realize he still has a few years before entering his prime. There's really nothing he can't do. He brings the passion to the Real Madrid midfield and will sacrifice his body without even considering the ramifications. Every team needs a guy like him, and Real Madrid have him for probably the next decade. – Roger Gonzalez
11. N'Golo Kante, midfielder, Chelsea
Having returned from seven months on the sidelines the week before the quarterfinals, it may be that Kante is not quite able to show the best version of himself in this year's Champions League. That will certainly be a relief to Real Madrid, who will not have forgotten how Kante ripped them to shreds on the way to winning the title in 2021. That player, a ball winning and progressing machine who could craft chances for others, might just be top of the list. Even an approximation of him should rank very highly indeed. – James Benge
10. Joshua Kimmich, midfielder, Bayern Munich
Thomas Tuchel replacing Julian Nagelsmann as Bayern Munich head coach changes things for the German giants. However, one thing that is likely to remain constant under the 2021 Champions League winning boss is Kimmich's importance. The 28-year-old's versatility as both a midfield lynchpin and as a right-back option is vital but also as a leader given that he is now third in line for the Bavarians' captaincy behind Manuel Neuer and Thomas Muller. Kimmich is one of the most experienced Germany internationals on Bayern's roster so expect him to feature heavily in any potential title tilt under Tuchel. – Jonathan Johnson
9. Vinicius Junior, winger, Real Madrid
The Selecao superstar oozes flair. Did you not see the filthy assist against Barcelona in the season's last Clasico? The former Flamengo man is becoming one of the very best players in the world, and after scoring in last season's UCL final, there's no slowing him down. He's got 20 goals so far this season, just two off his career high and with plenty of games to go. At just 22 years of age, it might not be long until he tops this list. – Roger Gonzalez
8. Luka Modric, midfielder, Real Madrid
Each year we ask the question, "Is this the time that Modric slows down?" and each year he defies time by keeping his game at its highest levels. Even driving Croatia forward at the world cup didn't slow Modric like it did other players around the world as he breaks how age is defined at 37. Still pinging balls around the pitch and diving into tackles when needed, Modric is the heartbeat of Madrid and one of the main reasons why the team is still competitive in this Champions League. – Chuck Booth
7. Victor Osimhen, forward, Napoli
Despite the fact he might not be fully fit for the first leg of the quarter finals against AC Milan, Victor Osimhen is still one of those players to watch in the upcoming Champions League's games. The striker has had an outstanding season so far, scoring 25 goals in 29 games in all competitions. His pace, technique and strength have been just phenomenal. Despite Napoli paid big money to sign him, the feeling is that they still did an incredible deal. – Francesco Porzio 
6. Rodri, midfielder, Manchester City
There may be no one on this list quite as reviled by opposition fans as Rodri. There may be no clearer evidence of his excellence. His greatest ability is the setting of City's tempo but where he excels perhaps unlike anyone else is how he can spot and stop danger, by fair means or foul. – James Benge
5. Thibaut Courtois, goalkeeper, Real Madrid
One of the very best players in the world, not just goalkeepers. The Belgian was tremendous for Real Madrid en route to UCL glory last season and he's only getting better. He kept Barcelona scoreless in El Clasico and will look to do the same against his former club, Chelsea. The tall, long superstar can make every save in the book, though we have seen some errors from him that will keep him on his toes. – Roger Gonzalez
4. Khvicha Kvaratskhelia, winger, Napoli
Kvaradona, as they call him. Kvaratskhelia is the real star of Napoli and most decisive player of the roster as he's scored 14 goals and provided 16 assists in 31 games in all competitions this season. Kvaratskhelia has shown confidence in taking shots from outside or inside the box, scoring from headers, taking defenders on one-on-one with his dynamic pace. You put all that together and the early returns suggests he's on pace to becoming one of the best players around and it won't be a surprise if top European clubs come knocking on Napoli's door this summer. – Francesco Porzio 
3. Karim Benzema, forward, Real Madrid
The current Ballon d'Or holder is key to Real Madrid's hopes of a UEFA Champions League title defense. The 35-year-old has not been at the peak of his powers all season but his rise to being recognized as the world's best player came at this stage last campaign. Back-to-back hat-tricks against PSG and Chelsea before three more decisive strikes over two legs to dispose of Manchester City was part of Benzema's 15-goal overall haul. The ex-France international's recent treble in El Clasico away at Barcelona proves his undiminished big game appetite which the Blues know all about ahead of this quarterfinal reunion. – Jonathan Johnson
2. Kevin De Bruyne, midfielder, Manchester City
Whatever the season, whatever the needs of his team, Kevin De Bruyne finds new ways to dominate. His combination play with Erling Haaland this season has been devastating, a cross from KDB is as devastating as a square pass to an empty goal from mere mortals.  – James Benge
1. Erling Haaland, forward, Manchester City
The Champions League is supposed to be the greatest test of a footballer: the toughest defenses, the fewest opportunities, the biggest pressure. What to make then of a player who has delivered 33 goals in his first 25 appearances in Europe's biggest competition? Haaland swings entire ties in a few moments and at just 22 years of age he is on pace not just to match the scoring exploits of Cristiano Ronaldo and Lionel Messi but obliterate records that looked destined to be unreachable. – James Benge