cashmere quick facts | CNN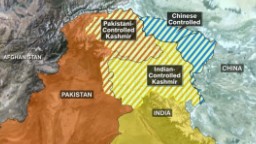 CNN
—

Here is a look at Kashmir, a region in the Himalayas and Karakoram Mountains. India, Pakistan and China all claim partial or full ownership of cashmere.
Kashmir is an 86,000 square mile region in the northern part of the Indian subcontinent.
India and Pakistan have been at odds over Kashmir since the two countries gained independence in 1947.
More than 47,000 people were killed in separatist violence between 1989 and 2008, according to the Indian government. Some human rights groups and non-governmental organizations say the death toll is higher.
Hundreds are still killed each year by separatist violence, according to human rights groups.
The Line of Control separates parts of Kashmir controlled by India and Pakistan.
Controlled by India: A state called Jammu and Kashmir forms the southern and eastern parts of the region. Srinagar is the summer capital. Jammu (City) is the winter capital.
Controlled by Pakistan: Three territories named Azad Kashmir and Gilgit-Baltistan make up the northern and western parts of the region. The capital of Azad Kashmir is Muzaffarabad.
Controlled by China: An area called Aksai Chin in the northernmost part of the region.
Kashmir: The bitter dispute between India and Pakistan
1947 – India and Pakistan gain independence from Britain. Kashmir initially chooses to remain independent and not become part of either Pakistan or India. After fighters from Pakistan invade, the Maharajah of Kashmir signs a letter of accession to India. Pakistan does not recognize the letter as a legal document, sparking a war.
January 1, 1949 – India and Pakistan agree to withdraw all troops behind a jointly agreed ceasefire line, later known as the Line of Control.
1965 – India and Pakistan go to war again over Kashmir.
1989 – Islamist militants begin an uprising in Indian-controlled Kashmir.
1999 – India and Pakistan are engaged in a limited border dispute in Kashmir after armed intruders crossed the Line of Control in the town of Kargil.
July 25, 2000 – Hizbul Mujahedeen, a pro-Pakistani Kashmiri militant group, declares a three-month unilateral ceasefire in Jammu and Kashmir.
Aug 8, 2000 – The Hizbul mujahideen call off their ceasefire.
May 23, 2001 – India ends six-month ceasefire while inviting Pakistani military ruler to General Pervez Musharrafon peace talks aimed at ending five decades of hostilities between the two countries.
14-16 July 2001 – Musharraf and Indian Prime Minister Atal Behari Vajpayee meet in Agra, India for a three-day summit. The talks do not result in a joint statement on Kashmir.
December 20, 2001 – The Indian Army is stationing troops on its border with Pakistan in the northern states of Kashmir and Punjab following an attack by militants on India's Parliament building. Pakistani troops are also building up across the border.
January 12, 2002 – Musharraf announces ban on two militant groups in Kashmir.
October 2002 – In Indian-controlled Kashmir, four rounds of elections to elect a new state administration are coming to an end. About 300-500 people are killed during the election campaign.
Nov 2003 – India agrees to a Pakistani bid for a ceasefire along its borders in the disputed Kashmir region. The ceasefire comes into effect on November 26 and is the first ceasefire in 14 years.
January 4, 2004 – Vajpayee meets with Musharraf in Islamabad. It is their first direct contact in two years.
March 28, 2008 – Human rights activists find nearly 1,000 unmarked graves near the line of control. Hundreds of protesters in Indian Kashmir later clashed with police, demanding an investigation into the graves.
October 21, 2008 – India and Pakistan are reopening a trade route along the Line of Control for the first time in six decades. Transport goods include fruit, clothes and spices.
January 14, 2011 – India's Interior Minister announces that India will reduce its security forces in Kashmir over the next 12 months.
February 10, 2011 – Pakistan and India agree to resume peace talks, which stalled afterwards 2008 Mumbai terrorist attacks.
July 27, 2011 – Pakistani Foreign Minister Hina Rabbani Khar meets with Indian Foreign Minister SM Krishna in New Delhi to discuss ways to improve travel and trade in Kashmir.
February 2015 – The Hindu Bharatiya Janata Party (BJP) and the People's Democratic Party (PDP), a regional party supported by the Muslim majority, announce the formation of a coalition government in Indian-controlled Kashmir. This follows five rounds of elections in 2014 without a clear winner and marks the first time the BJP has been part of the governing coalition in the state legislature. The coalition government will be sworn in on March 1, 2015.
January 2016 – The death of the Prime Minister of the Indian state of Jammu and Kashmir, Mufti Mohammad Sayeed, has sparked turmoil within the coalition government. The heir presumptive is Mehbooba Mufti, Sayeed's daughter. However, she declines to take the oath of office as relations between the PDP and BJP have faltered. With the power-sharing alliance in crisis, the governor's rule is imposed in accordance with the Constitution of Jammu and Kashmir.
April 4, 2016 – Mehbooba Mufti is sworn in as first female Prime Minister of Jammu and Kashmir.
09/18/2016 – Gunmen enter an Indian army base in the city of Uri, killing 18 soldiers. A few hours later, four militants are killed in a shootout with the Indian army.
09/29/2016 – Two Pakistani soldiers are killed after clashes with Indian troops on the border.
October 2016 – India is relocating more than 10,000 people from the disputed border area, while tensions with Pakistan continue to escalate.
November 15, 2016 – Raja Farooq Haider, Prime Minister of Azad Jammu and Kashmir says The government has moved 8,000 people to safer places after the ongoing "Indian shelling" and there are plans to move more. In response, Indian defense spokesman Lt. Col. Manish Mehta told CNN, "We always respond appropriately and effectively when there is a ceasefire violation by the Pakistani side."
August 1, 2017 – Violent protests erupt over the killing of Abu Dujana, the Pakistani commander of the terrorist group Lashkar-e-Taiba.
February 14, 2019 – At least 40 are killed when a bomb explodes near a convoy of Indian paramilitaries.
February 26, 2019 – Pakistan says it will retaliate "at the time and place it chooses" after India launched airstrikes at a suspected terrorist training camp on Pakistani territory, the first such incursion by Indian Air Force aircraft since the 1971 war.
February 27, 2019 – Pakistan says its air force shot down two Indian warplanes over Kashmir. India confirms loss of plane and says it shot down a Pakistani jet while responding to the incident.
March 1, 2019 – Pakistan announces release of jailed Indian pilot
August 5, 2019 – Tensions between India and Pakistan are rising after Indian Prime Minister Narendra Modi announces that India will repeal a constitutional provision giving the state of Jammu and Kashmir autonomy to enact its own laws. Widespread communications outages are being reported in the Muslim-majority region following the announcement.
August 6, 2019 – India's parliament votes to approve the status change for the state of Jammu and Kashmir. The Reorganization Act increases New Delhi's authority over the region, transforming it from an autonomous state into a union territory. Pakistan replies that the change is illegal. "If the world doesn't act now, if the so-called developed world doesn't obey its own laws, then things will become a place that will harm the whole world," said Imran Khan, Prime Minister of Pakistan.
Aug 7, 2019 – Pakistan announces diplomatic ties and bilateral trade with India are suspended.
August 8, 2019 – Modi delivers a television speech iIn it he claims that removing Kashmir's autonomy status will promote stability, reduce corruption and boost the economy. Pakistan's foreign minister says the country will remain vigilant but no military options are being considered. the United Nations released a statement urging both countries to resolve the issue peacefully Respect for human rights in the region.
October 31, 2019 – Jammu and Kashmir officially lose statehood status and become two union territories.
https://www.cnn.com/2013/11/08/world/kashmir-fast-facts/index.html cashmere quick facts | CNN