"Bro, you lost" – Aljamain Sterling Responds to Petr Yan's Creative Adaptation of UFC 273 Poster » FirstSportz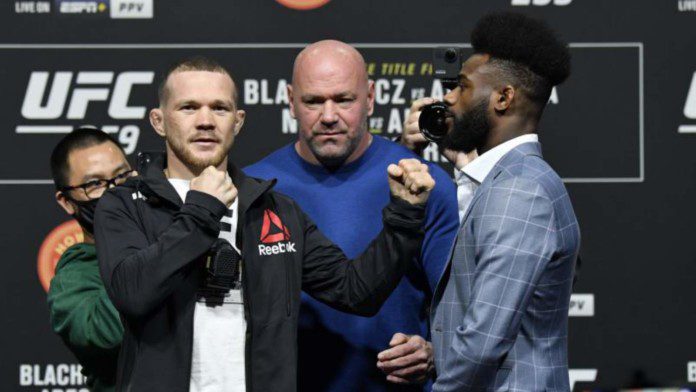 Aljamain Sterling and Petr Yan will face each other in the octagon at the next UFC PPV. The duo last fought each other in UFC 259 and are currently awaiting their fight in the co-main event of UFC 273.
The PPV is led by Featherweight Champion Alexander Volkanovski against Korean Zombie. Nonetheless, Sterling vs. Yan is also an equally important fight for the night considering their history.
Needless to say, both fighters are not into each other. With Aljamain Sterling winning the fight due to an illegal knee disqualification from Yan's side, the differences between the fighters have grown immensely.
Jan believes that sterling is not the true champion and pretends to be hurt in the illegal knee by him. Sterling then pulled out of the rematch against Yan due to a neck injury and underwent surgery. Now that their rematch has been postponed, Yan tweeted something interesting.
Petr Yan posts a hilariously edited picture of Aljamain Sterling on Twitter:
Recently, interim bantamweight champion Petr Yan posted a picture of UFC 273. The photo showed the main and co-main event play. But Petr, who took a jibe at Sterling, covered his face with a clown hat and a pig's nose.
While many fight fans found it funny, Sterling certainly didn't like it. He replied to the tweet Saying "Brother, you lost." It should be noted that when Aljamain first won the belt by disqualification, he didn't want the title and said he never wanted to win that way. But over time his attitude changed and he began calling himself "thereal world champion".
Which is absolutely true. But many fight fans often ask him if he won the fight before the illegal knee. Because Yan Sterling dominated at UFC 259 before losing the fight via disqualification. Still, it looks like the feud started before the fight. Needless to say, it will build hype around the fight.
Also Read: 'Smesh Everyone' – Aljamain Sterling Shares Hilarious Snaps of Himself With Iconic 'Dagestani Beard'
https://firstsportz.com/ufc-news-bro-you-lost-aljamain-sterling-reacts-to-petr-yans-creative-take-on-the-ufc-273-poster/ "Bro, you lost" – Aljamain Sterling Responds to Petr Yan's Creative Adaptation of UFC 273 Poster » FirstSportz