Boston College stuns No. 6 Virginia as Cavaliers risk falling off a No. 3 seed in Bracketology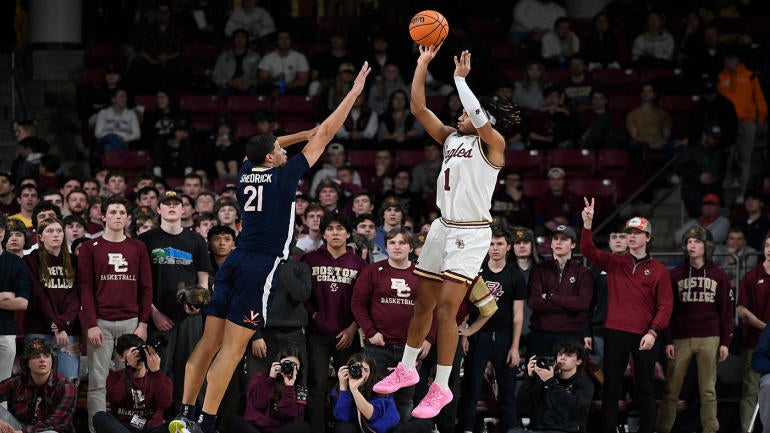 USATSI
Virginia, No. 6, suffered one of the worst losses of the season Wednesday, 63-48 at Boston College. The loss drops the Wahoos to 21-5 overall and 13-4 in ACC play, and also adds what is currently known as a quad-3 loss to their NCAA tournament profile.
Boston College took control of the game early and never looked back, with Virginia's final lead coming at 13-11 and 15-15 scores, the last time the game was tied. Credit to Anthony Grant's Eagles not only for jumping into a Virginia team that's been a bit shaky lately, but for finding answers every time their top 10 opponents could make a tackle to get around to take the lead. Makai Ashton-Langford finished with 16 points in 6-of-9 shooting and Boston College shot 52% from the field as a team against one of the best defenses in the ACC.
As expected, the cheering for a home win against a top 10 team was a big cheer from the fans in the Conte Forum. This is the Eagles' third home win against a team ranked in the top 25 this season, but the eternal power of defeating Virginia carries different weight than then-leader Virginia Tech in December or then-leader Clemson in January hit.
For Virginia, the loss could cost the team a starting line in the 2023 NCAA tournament. There's still plenty of time to move, but CBS Sports Bracketology pundit Jerry Palm notes that the loss to Boston College could "probably" drop the team from its current prediction of a 3-seed in the field of 68. Virginia also falls to a three-way tie in the ACC's losing column, while Miami moves up to first place with a 14-4 league record and two games left. The Wahoos and Pitt are both 13-4 with three games left in the regular season.
https://www.cbssports.com/college-basketball/news/boston-college-stuns-no-6-virginia-as-cavaliers-face-danger-of-dropping-from-a-no-3-seed-in-bracketology/ Boston College stuns No. 6 Virginia as Cavaliers risk falling off a No. 3 seed in Bracketology