Bill Burr mocks people who are angry that his wife screwed Trump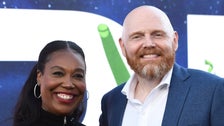 Comedian Bill Burr pokes fun at MAGA supporters upset over his wife giving Donald Trump the finger at a recent UFC event.
Burr and his wife, actress and producer Nia Renée Hill, were at Madison Square Garden on November 11 when the former president arrived and sat next to them.
Burr didn't seem too bothered by the outcry when he was interviewed about the incident "The Rich Eisen Show" End of last week.
In fact, he mocked Trump supporters' outrage — and the hypocrisy that accompanied it.
"These Trump guys – they always say, 'Ah, you're snowflakes, forget your feelings,' and so on," Burr said. "And then you make fun of Trump and they're like, 'Oh my God, that's so disrespectful!' You say 'Eff Joe Biden!' It's like you can't have it both ways!"
Burr then explained how the whole thing went down.
"The guy walked into the arena," he said. "Everyone cheered. She gave him the finger. Nobody was arrested. That's why this country is great. Everyone has commented. Can we all be adults?"
He added: "I don't know about you, but I came here to take part in the fighting. I didn't know I was going to the Republican National Convention."
You can watch the segment below.