"At WrestleMania, Brock Lesnar will acknowledge me"; Roman Reigns vows to crush Brock Lesnar and become the greatest Superstar in WWE history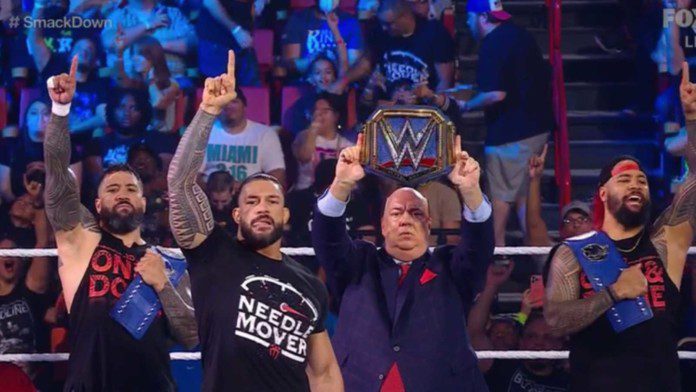 One of the main reasons WrestleMania 38 is great is the Main Event. Brock Lesnar vs. Roman Reigns is scheduled to take place in the Main Event of the 38th edition of The Greatest Stage Of Them All, WrestleMania 38. The match will be a Winner Takes All "Championship Unification Match" which has upped the ante for the mega event. The match will be witnessed by the people of Dallas, Texas on the second night of the most amazing two-night event in WWE history.
Friday Night Smackdown in Miami saw Roman Reigns come out and send a message to Brock Lesnar the Beast Incarnate when he wasn't there. The tribal chief came out and said that a lot of people didn't want Brock Lesnar coming to WrestleMania as the champion and that it could happen on March 5, 2022 when Lesnar was going to defend the championship at Madison Square Garden.
Roman Reigns then said that he wanted Lesnar to enter The Greatest Stage Of Them All as a champion because he knew he would crush the Beast Incarnate and pin him down. Reigns also said that after his win he will endure both the WWE and the Universal Championship and that Brock Lesnar will recognize him at the event.
The WWE Live event at Madison Square Garden could have a major impact on WrestleMania 38
The live event at Madison Square Garden was one of the most publicized live events in WWE history, the main reason it is an event that could change the landscape of WrestleMania 38. The show will feature top WWE stars and many of them would be defending their championships at the event that could change the biggest stage of all.
The biggest of these are the championship games of Roman Reigns and Brock Lesnar which could completely change the main event of the 38th edition of The Grandest Stage Of Them All. The two superstars are confirmed to defend their individual championships at the event, but their challenger has still not been announced.
Also, Raw Women's Champion Becky Lynch will defend her championship in a triple threat match between Rhea Ripley and Bianca Belair. In addition to the United States Championship Match, the Smackdown Tag Team Championships will also be defended as the Usos take on the New Day in the live event.
ALSO READ: Surprising Reports Starring Seth Rollins Shed Light on Roman Reigns and Brock Lesnar's Post-WrestleMania 38 Future
https://firstsportz.com/wwe-roman-reigns-vows-to-smash-brock-lesnar/ "At WrestleMania, Brock Lesnar will acknowledge me"; Roman Reigns vows to crush Brock Lesnar and become the greatest Superstar in WWE history