AP Top 25 Poll: Alabama jumps back to No. 1, Notre Dame at No. 5 in latest college football rankings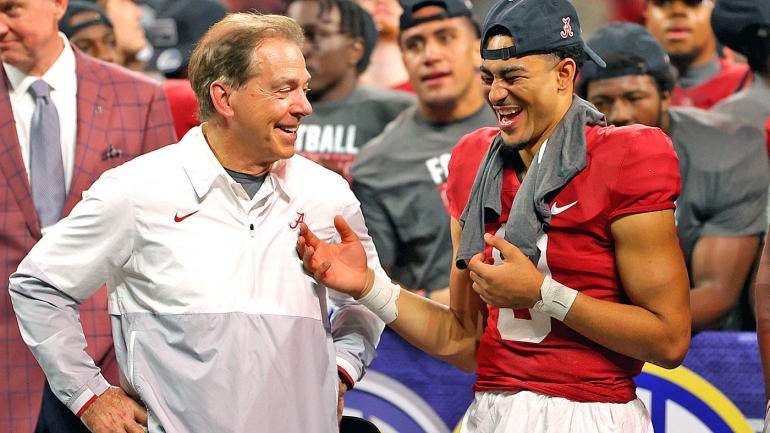 A competent victory over the previous highest rating Georgia enough to launch Alabama #1 on the Top 25 New AP Releases on Sunday. The Crimson Tide placed 4th in the previous poll, but made a convincing case for why they deservedly returned to #1 in beating the Bulldogs 41-24 in today's SEC Championship Game Saturday.
Altitude left of Alabama Michigan in 2nd place even after the Wolverines were defeated Iowa 42-3 in the Big Ten Championship Game on Saturday night. Notre Dame also rose in Sunday's poll, despite the fact that Fighting Irish lost head coach Brian Kelly first LSU last week and didn't play in a conference championship game. Fighting Irish is in 5th place after being in 6th place previously.
All other major Sunday puberty included Baylor jump from number 9 to number 6 after defeat Oklahoma State in the Grand Championship Game 12 and Utah increased from 14th to 10th place after the previous win Oregon in the Pac-12 Championship Game.
Check out the full AP Top 25 below. The votes in the first place are in parentheses.
1. Alabama (50)
2. Michigan (9)
3. Georgia
4. Cincinnati (3)
5. Notre Dame Cathedral
6. Baylor
7. Ohio State
8. Ole Miss
9. Oklahoma State
10. Utah
11. the state of Michigan
twelfth. BYU
13. Piston
14. Oklahoma
15. Oregon
16. Louisiana
17. Iowa
18. State NC
19. Clemson
20 Wake Forest
21. Houston
22. Arkansas
23. Texas A&M
24. UTSA
25. Kentucky
Others received votes: Wyoming 109, Wisconsin 66, State of San Diego 63, Minnesota 38, Purdue 36, Louisiana Tech 11, Appalachian State 9, Army 7, Mississippi State 4, Penn State 4, Northern Illinois first
https://www.cbssports.com/college-football/news/ap-top-25-poll-alabama-leaps-back-to-no-1-notre-dame-at-no-5-in-latest-college-football-rankings/ AP Top 25 Poll: Alabama jumps back to No. 1, Notre Dame at No. 5 in latest college football rankings