Ali Fedotowsky claims Jake Gyllenhaal left her 'crying' on the red carpet
"Sorry Jake Gyllenhaal, I'm going to see Taylor Swift now," the Bachelorette star said.
Ali Fedotowsky is still reeling from her first red carpet interaction with Jake Gyllenhaal.
During an appearance on the "Women on Top" podcast, the "Bachelorette" grad opened up about her seemingly not-so-pleasant experience with the "Brokeback Mountain" star while working as a red carpet correspondent for E! News.
"Sorry Jake Gyllenhaal, I'm going to see Taylor Swift now," the 38-year-old began, referring to the singer's past songs about the actor.
"Jake Gyllenhaal turns up for the red carpet – my first red carpet for E! News – I'm like, 'I'm gonna kill it. I'll be so good,'" Fedotowsky recalled. "I practiced. I rehearsed my questions. I was so ready to go."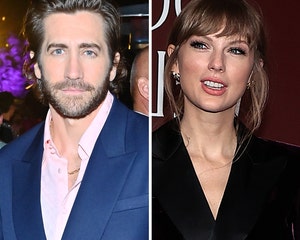 Getty
Jake Gyllenhaal Finally Responds to Taylor Swift's 'All Too Well'

view history
She continued, "He walks up to me, I'm shaking in my heels — eh, I'm terrible in heels — and I'm like, 'Hi, Jake, who did you bring tonight?' Like, for a date, like, who's your date tonight?" She claimed. "He says 'bye bye' and walked away from me."
The reality star revealed that she broke down in tears and "started crying" because she thought she was going to lose her job after receiving no responses from the "Spiderman: Far From Home" actor.
It wasn't until Fedotowsky reportedly saw Gyllenhaal giving other reporters the same cold shoulder on the carpet that she realized this might be the actor's norm.
"There's an interviewer next to me and her question to him was, 'Well, if you don't get an Oscar for this film, these tattoos definitely have to be,' because he had quite a tattoo for his film and he says 'Bye.' and walked away because he's a serious actor," she said.
ABC
The Most Dramatic Fantasy Suite Dates in Bachelor History

view history
The 'Bachelor' grad admitted her position as a red carpet correspondent was her 'least preferred job' [she] ever had."
Ali explained: "It just wasn't for me. … It really took a toll on my confidence."
Now that she's experienced on both sides of the rug, the mother-of-two revealed she has no patience for celebrities who are rude to reporters.
"I've walked so many red carpets and done countless interviews because of The Bachelorette, and I know how easy it is to be nice," Fedotowsky said.
Though her interaction with Gyllenhaal was far from ideal, the television personality did name a few celebrities who treated her kindly during her stint as a reporter.
"Tom Hanks [is the] the nicest guy ever"[I] wants him to be my second dad," Ali said, adding that Kris Jenner is "the kindest, kindest person."
"All the Kardashians, Kim [Kardashian], They are so nice. Reality stars are generally so nice," she continued.
https://toofab.com/2023/03/30/ali-fedotowsky-claims-jake-gyllenhaal-left-her-crying-on-red-carpet/ Ali Fedotowsky claims Jake Gyllenhaal left her 'crying' on the red carpet