2023 Senior Bowl: Without a deep QB class, two players with offensive skills stand out on Day 1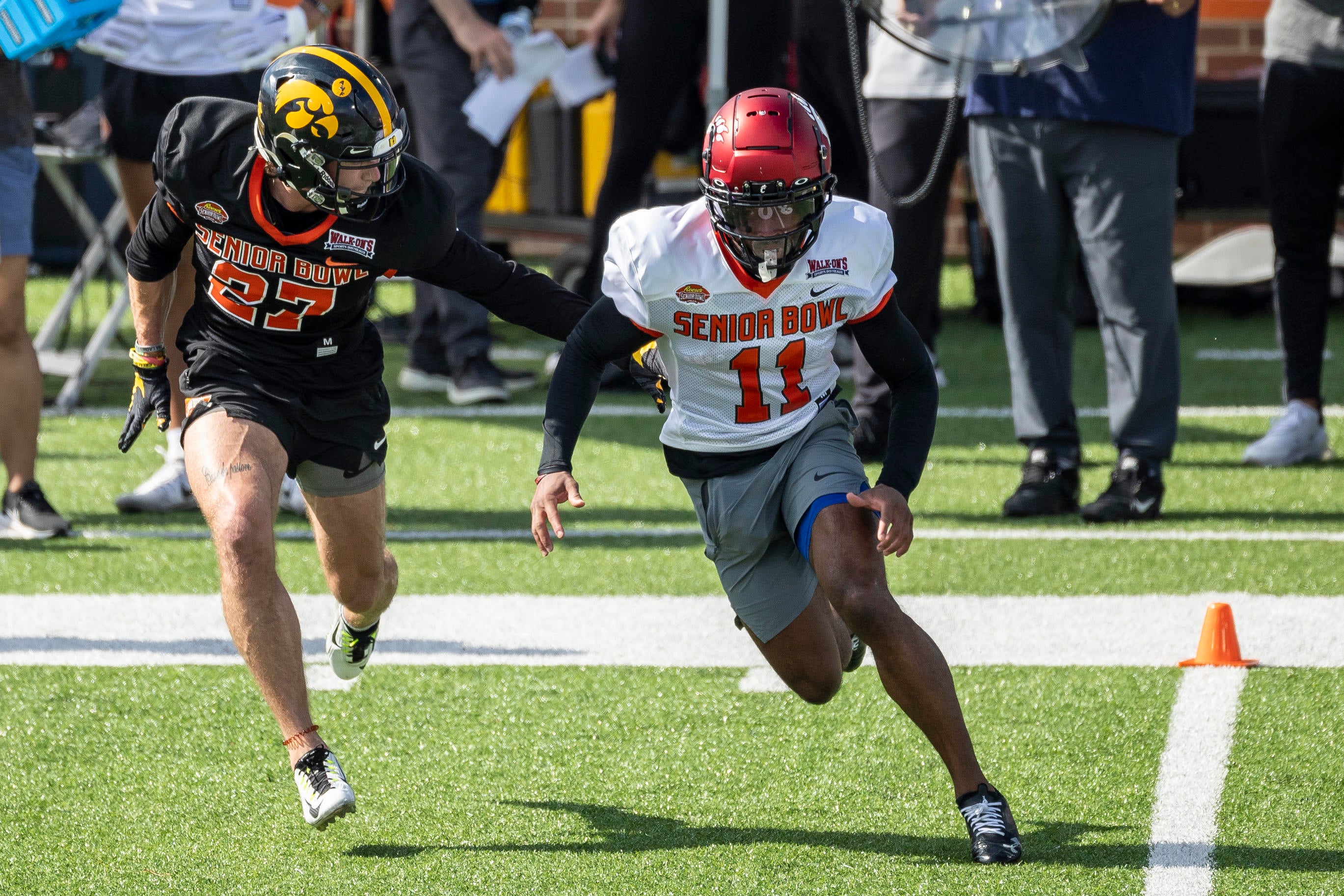 MOBILE, Ala. – A year ago it was all about the quarterbacks – Kenny Pickett, Desmond Ridder and Malik Willis were all at the Senior Bowl trying to cement their good faith in the first round. Twelve months later, QBs include Jaren Hall, Jake Haener, Malik Cunningham, Clayton Tune, Max Duggan and Tyson Bagent. None are expected to go into Round 1 and the top 100 could be a stretch at this point.
But this isn't about the quarterbacks — there will be plenty of time to evaluate that position in the coming weeks and months. Instead, we're focusing on the players who put in impressive performances on the first day of practice here in the Senior Bowl.
Tyjae Spears, RB, Tulane
CBSSports.com prospect ranking: No. 11 RB (159th overall)
Spears may have flown under the radar at Tulane for most of the season, but he stood out as one of the best players on the field here Tuesday. For the Green Wave, Spears was a low-mileage workhorse (he had 229 carries in 2022 compared to just 178 in the previous three years). He runs low to the ground and plays like a much larger back (he weighed 5ft 9, 204lbs) who also has home run abilities due to his close-range quickness and top-end acceleration.
Added bonus: he's a real passing threat, which really came into its own on Day 1 when he caught everything thrown in his way.
We had a Day 2 note on Spears coming into the week and we've spoken to several teams who expect him to be drafted on Friday. The only question is how high he could go in the end.
For more detailed design content, please see our latest prospect rankings and mock designs, as well as our new weekly podcast, "With the First Choice" with Rick Spielman, the former general manager of the Vikings.
TreTucker, WR, Cincinnati
CBSSports.com prospect ranking: Outside the top 250
Tucker was perhaps one of the most exciting players to see Tuesday. He's just under 5ft 9 and weighs 187lbs, and those are legitimate concerns when it comes to playing in the NFL. But then you watch it and forget the measurable. He's electric with the ball in his hands and his short-distance speed is elite. It explains why he is more dangerous as a returnee; he returned mostly kicks in college (along with a handful of punt returns), but he used punts here on Day 1 is that Tucker's ability with the ball in his hands requires him to be on the field as much as possible is.
Dawand Jones, RT, Ohio State
CBSSports.com prospect ranking: No. 7 OT (34th overall)
Jones is a mammoth of a man, and he arrived in Mobile at 6ft 8 tall and weighing 375 pounds with an arm length of an amazing 36 5/8 inches. Jones' biggest concern, unsurprisingly, was his size. And more specifically, he would be able to control his weight, especially against NFL pass rushers. Well, he showed up at the Senior Bowl looking as lean as anyone could get at 375, and then he was dominating the one-on-one drills. Which, incidentally, are notoriously inclined toward the pass rushers, in part because there's no quarterback, no offensive linemates to help out, and no running backs or tight ends to chip their way into a route. Turns out none of that mattered, as Jones and those nearly 37-inch arms were all that was needed to often quickly eliminate would-be pass rushers.
This is Army's Andre Carter II, one of the best players at the Senior Bowl who didn't stand a chance against Jones. To be fair, Carter needs to add weight and get stronger (and we all knew that during the week, but it was only amplified here).
And here's Isaiah Foskey from Jones vs. Notre Dame, a strong, tenacious edge rusher who's all about power. He didn't stand a chance either.
Zacch Pickens, DT, South Carolina
CBSSports.com prospect ranking: No. 12 DL (84th overall)
We really liked Picken's band in the fall and we like him even more after Day 1. He's consistently explosive from the inside line of defense, using a nice mix of twitches, good hands and power to win repeat after repeat after repeat, both in both one-on-one and team drills. He regularly faced doubles teams during the season and regularly maintained his place at the top. And while he didn't have a number of pass rush moves, he was persistent with good hand use and routinely collapsed the pocket.
Riley Moss, CB, Iowa
CBSSports.com prospect ranking: No. 12 DB (234th overall)
Moss might be one of the most instinctive players at the Senior Bowl, and it showed throughout his Hawkeyes career. He finished with 11 interceptions (three pick-sixes) and 25 pass breakups. The biggest question we had about him was his game speed because at times he looked half a step slow. Coincidentally, Moss was one of the fastest timers on the first day of practice and his game consistently lived up to his standards.
He looked smooth in cover, never panicked, displayed the ability to turn his hips, was smooth in his turns, and was in phase in his one-on-one matchups. And even when the receiver made the play, Moss was there to limit yards from the catch.
There wasn't much to report from the quarterbacks — even Day 1 at the Senior Bowl saw a fair number of errors, but there are two more drills for someone in this group to stand out from the crowd.
https://www.cbssports.com/nfl/draft/news/2023-senior-bowl-without-a-deep-qb-class-a-pair-of-offensive-skill-players-stand-out-on-day-1/ 2023 Senior Bowl: Without a deep QB class, two players with offensive skills stand out on Day 1